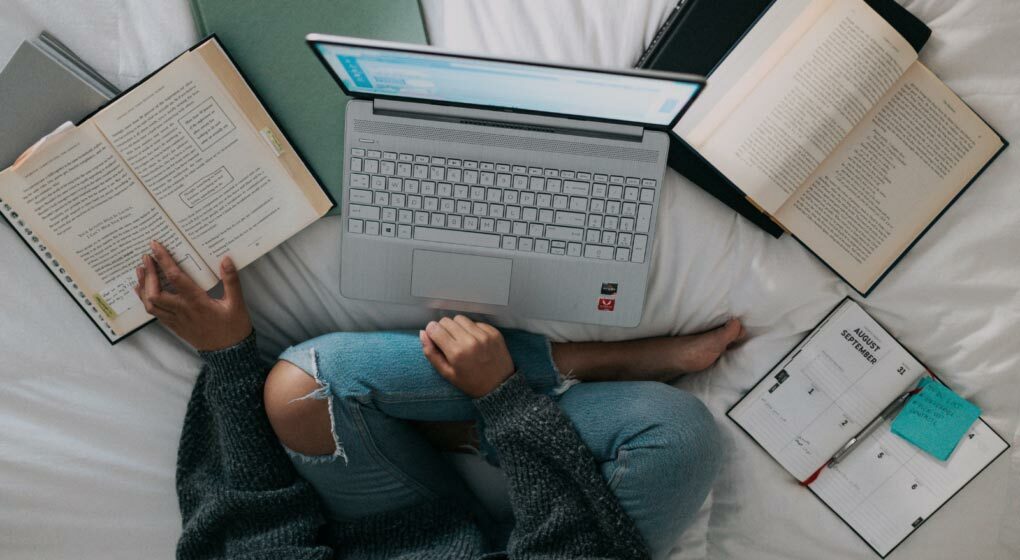 Does influencer marketing for your higher education program make sense?
Influencers…they're everywhere these days on social media. From the food you consume, to hotels you stay at, chances are the brands you're coming into contact with on a daily basis are thinking about ways to incorporate influencers into their marketing strategies. Why? Because people trust what these influencers say.
But for higher education, influencer marketing is a different ballgame. That's not to say that influencers can't be beneficial for your higher education marketing strategy, but the way to utilize their platforms to drive enrollment for your institution is slightly different than your run of the mill influencer strategy. We're outlining the details on why influencer marketing works, three key influencer groups you should be considering for your higher education marketing strategy, key ways to measure success for your influencer program, and why it's worth the investment. Let's dive in.
Why Influencer Marketing Works. "I fell for an influencer ad again."
Us too. You're not alone. There's a reason why influencer marketing is so successful and why this industry has grown so rapidly over the last five years. It's pretty simple really…influencer marketing works because people trust what they hear from other people's experiences. Customers learn from their peers' decision-making choices and make their own buying choices based on those recommendations. For example, if an Instagram influencer partners with a clothing brand to post about a new item in their collection, not only are they showing off the aesthetic of the item, but they're also talking about the features for it (moisture wicking, light material, flowy, comfortable, flattering, etc.) They show off that item on Instagram, provide a referral code–that usually includes a discount code too–and boom, sales on sales are made. All that the influencer did in this situation is make a recommendation. Simple, yet effective marketing, amirite?
The Three Key "Influencer" Groups Education Institutions Already Have at Their Fingertips
Okay, I'm on board–but influencers and higher education seem like a weird mix.
We can understand why you'd think that, but hear us out. We're not encouraging you to go on Instagram and search for the best lifestyle or mommy influencer in your area…no, instead we're encouraging you to utilize the people that are at your fingertips: your students, your faculty, and your alumni.
Truthfully, these key groups of "influencers" are going to be the best advocates for your organizations for three reasons:
They've lived the experience and can "sell" it authentically,
They're trusted by the audience for having attended your institution and having had a positive experience during their time with you, and
They can share their recommendation in a way that doesn't seem overly salesy or paid for
As an added bonus, these groups are likely part of your school's outreach strategy anyways, so why not utilize them in a new way to reach potential new students? In particular, students these days have grown up on social media and, in turn, have impressively large audiences on Instagram, TikTok, YouTube, etc. that are curious about each other's lives and choices. It'd be a shame not to take advantage of those platforms in a way that benefits both your institution and the student themself. We want to be clear that a huge audience is not always the goal here, as we want authenticity over echo chamber volume, but it is a nice added bonus that is worth pointing out.
Creating a Higher Ed Influencer Strategy That Compliments Existing Marketing Efforts
If you're still on board at this point, you may be wondering where to even start. In order to build an effective influencer strategy, it's important to begin by outlining your goals. Is your goal to:
Drive overall graduate program enrollment?
Increase the number of undergraduate students enrolling in a specific major?
Build awareness of a new program you're adding to your curriculum?
Increase overall awareness for a school
Drive campus visits in general or to a specific event
Amplify key messages for your school
Communicate the student-life experience
Whatever the goal is, you'll want your influencer strategy to compliment existing marketing efforts with messaging that is approved and appropriate. The goal you choose will also inform the right influencer group to pursue to help get the message out to the masses. For example, if you want to increase undergraduate student enrollment across the board, we would recommend putting out a call to action on your school's social media, newsletter, and school paper about recruiting school ambassadors to help spread the word about being a student as [INSERT SCHOOL]. Of course, there will need to be something in it for them (we'll get to that in a minute), but this will help you cast a wide net to recruit the right people to help you tell your story.
If you want to improve specific graduate program enrollment, you could utilize all three influencer groups we previously mentioned to help reach the right audience. In this case, your audience is naturally going to be a more niche group of people who are looking for the right program fit–you could reach out to well-liked faculty, impressive program alumni, and/or current students who are already advocates for your program to see if they'd be interested in helping your marketing efforts.
Whatever route you choose, just make sure it aligns with your goals so you can reverberate messaging through your influencers instead of working in a silo with them.
What would these influencer posts look like?
At the risk of being very vague, the post should look authentic to the person it's coming from. For example, if one of your students has a super successful YouTube page focused on violin solos and happens to be in your Master's of Art Theory program, having them create a violin solo video that mentions your program could be a huge hit with their audience. Alternatively, if an undergraduate students has thousands of followers on TikTok, you could partner with them to do a "day in my life at [INSERT SCHOOL]" TikTok video. No two influencers will have success that looks the same, so it's important to remember this and create your strategy with their audience in mind.
Measuring Higher Education Influencer Marketing Success
After that super vague answer about post types, you're probably scared to ask, "how do I quantify and qualify that it's working?" This is also a tricky question to answer because there's not always a steadfast way to measure performance of influencer marketing if your goal is general brand awareness, but you definitely can measure success in a few ways that are tangible and trackable:
Website analytics using UTM codes: One way we've measured success for different tactics (including influencer posts) is to provide a specific UTM code that goes on the end of a website link you share with the influencer to put in their bio or link to in their post. We won't go into the nitty gritty of UTM codes right now, but if you want to know more, check out tip #6 in this blog post. This code allows you to look at your website analytics backend and directly correlate link clicks with a specific activity (e.g., an influencer post).
Sign ups: If you want people to sign up for an information session, newsletter, or event, you could create a landing page for the influencer to direct people to where you collect information from the interested persons. This tactic also allows you to continue contacting leads after your influencer post wraps up. Double whammy!
General social media impressions (likes, comments, clicks, engagement): And for the most vague answer of them all, you could simply track their engagement levels by asking for backend analytics on their post that includes likes, shares, comments, clicks, and overall engagement numbers. This would be your best bet if you're simply trying to drive awareness of a program rather than make a direct "sale."
All in all, creating an influencer marketing strategy needs to be personalized to your institution and work to help you achieve your goals. Are you interested in influencer marketing for your higher education institution, but still aren't sure where to start? Get in touch. Our experts can help.
---
About VONT Performance Digital Marketing
At VONT we believe that change is the only constant in the digital world – and that excites us. When tools and environments are constantly changing, new opportunities to help our clients achieve success are constantly arising. Each new advertising technology, social platform, or design approach allows us to improve on the results we achieve for our clients.
We believe in this idea of continual fine-tuning so much that we named our company VONT, which means to achieve exponential improvement in incremental steps. It is our core belief, and the reason why we are not simply a web design company or simply a digital advertising agency, but rather a long-term, single source partner providing a comprehensive array of web development and digital marketing capabilities.