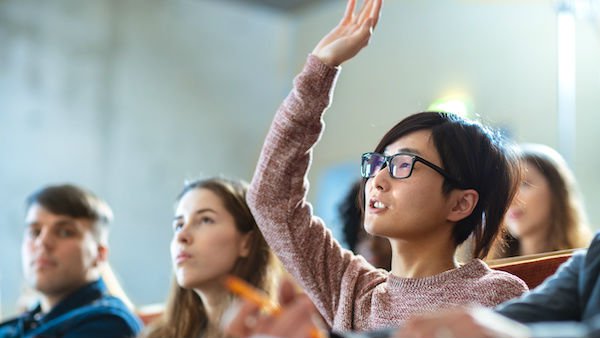 As a higher education institution with a summer pre-college program, do you experience the push and pull of needing a successful summer term to meet your school's annual revenue goals? While your summer programs for high school students will typically not have marketing funds to rival your undergraduate and graduate programs, it's still possible to attract this challenging younger demographic and their parents in this competitive space with a reasonable digital marketing budget. In this article, we specify how and when to reach your summer term prospects at the right point in their decision-making journeys throughout the year using the most effective digital marketing tools.
How to Get an Edge in This Competitive Summer Programs Market
In the past, most colleges have operated within a traditional fall and spring semester academic year. Students would unwrap their extra long twin sheets in September and hit the road in overloaded cars in May with visions of summer days ahead. Now, it's more about the classroom than the beach, as many rising senior and junior high school students (and their parents) want a summer pre-college program at a higher education institution. In turn, universities and colleges all across the country are stepping up to the plate with a plethora of unique high school level and college credit programs and courses for summer students.
What's in it for high school students? Depending on the student, the end goal could be course credit, life experience, personal growth, a sneak peek at the freshman experience, and an amazing opportunity to know a college beyond the brochure. With a summer pre-college session, these students can have a better idea if this school is the place to make a substantial financial commitment for the next four (or more) years, and if it's the right spot to plant roots. Parents of these high school students also have individual "goals" for a summer pre-college enrollment, and knowing the parallels between parents and adolescents, the "whys" can still be different while the goal destination is the same.
What are the advantages of developing summer term prospects? "Certainly, the short answer is awareness and revenue in the short-term and the possibility (long-term) of converting summer term students into undergrads and post grad students in the future," explains Jeff Mack, VONT Digital Client Strategist.
The summer term market is profitable, and every player in this space is clamoring for the biggest slice of this pie as is possible. The competition across many high-quality schools is fierce, the applicant pool is decreasing due to rising costs and falling demographics, and budget pressure is always pushing the throttle. As a means to undergraduate enrollment, the summer pre-college program can be a competitive move to getting prospective students into the funnel early.
Summer Pre-College Program Marketing Advantages and Challenges
"The prospective audience can be very large as all rising junior and senior high school students and parents of high school students are potential prospects locally, nationally, and internationally depending on the summer program," says Jeff Mack. "However, budgets are typically not as robust as, say a graduate program, and for good reason. That's because a summer program may return a few thousand dollars to a school while an MBA could return tens of thousands of dollars."
The discrepancy in budget and audience size limits reach means that schools must be very selective on how they attempt to reach the audiences for maximum ROI.
"Targeting market segments like students in a school's state before spending budget outside of the local market is one example," adds Jeff Mack. "Another difficulty is figuring out how to reach the ever changing, tech-savvy youth and how they engage with the internet and devices to make sure you are reaching them on the right platforms."
In other words, successfully reaching one of the trickiest demographics out there on a tight budget is not for the faint of heart. That said, it is possible with the right digital marketing plan. That begins with a deeper dive into demographic metrics.
Reaching Your Target Audience of High School Students and Their Parents
Reaching 16-18-year-old students (and their parents) begins with knowing where to find them online. At the most top-line level, you are aiming to reach prospective students (teenagers that are most likely rising high school senior students, but also could include academically-sound junior students) and their parents that may or may not already have an existing awareness of what a summer pre-college program is. The goal here is to first make them aware of your program, then to successfully get them to apply to your program, and finally convince them to enroll into this program if and when you accept them.
Your target audience has a digital abode
The single best way you are going to reach your target audience is online. They live online, as illustrated by a few supporting statistics:
8 million out of 10.2 million respondents (86%) rely most on digital for choosing their higher education path according to Unpacking the Student Decision Journey in Higher Education, a Google Ipsos Research report in February 2017.

The other resources were much further down the list: Admissions counselor (42%), Students/professors/alumni (33%), Friends/family (31%), Radio/Print/Billboard (18%), and TV (13%).

90% of college-bound seniors reported having regular access to a mobile device – up 12% from 2013.

71% reported having viewed a college site on their mobile.

81% of parents had regular access to a mobile device

45% of them looked at a college site on it.

59% of college-bound seniors reported they were more likely to consider schools that use email, text messages or social media to communicate with them according to "The Online Preferences of College-Bound High School Seniors and Their Parents," Noel-Levitz' e-Expectations Report.

That number is up from 49% in 2013 and will keep growing.
Your School's Summer Program Website Must Be Mobile Friendly
Less can be more. Especially when it comes to screen size. According to the e-Expectations Report, 51% of seniors wanted college webpages to adapt to their mobile screens.
To best reach these digitally savvy prospective students and parents, you first need to consider that these people may discover you and consider you solely through a mobile device. Since conversion rates are typically lower on a mobile device than on a desktop (physical constraints of mobile devices, different usage patterns of mobile users), you need to optimize your site to be mobile friendly.
However, there is a misconception in the industry with becoming "mobile friendly." It's not simply scaling down your desktop site to be a miniaturized version of the same thing. Screen size is the tip of the iceberg. Instead, you need to think about the purpose and conversion goals of your mobile site to attract prospective students/parents to your summer pre-college program. This means including the most relevant information front and center, clear call to actions (CTAs) and pairing your site to align with your target audience in their funnel process. For example, more and more users are requesting text messages as a preferred method of contact. including "chat" functionality onto your mobile site is another way to ensure that all your user-preferred communication options are available.
Once you know who your audience is and which channels to use to reach them, it's time to develop a realistic summer term digital marketing budget.
Planning Your Summer Pre-College Program Digital Marketing Budget
"All schools are going to have varying program sizes, budgets, enrollment needs, brand awareness, competitive landscapes, etc. so there is no magic number of marketing dollars that should be spent," says Jeff Mack. "However, there is a simple formula that schools can leverage to plan a budget."
His suggestions start with this basic formula:
Budget = digital enrollment goal X cost per new student acquisition
The digital marketing enrollment goal number comes from your school.
The cost per new student acquisition number takes some guesswork and math leveraging school knowledge and agency estimates, but the formula looks like this:
Expected cost per digital marketing click / Expected landing page lead conversion rate / Expected yield rate per lead.
"For example, your school wants 50 summer program students and wants to know how much to invest in the media budget," explains Jeff Mack. "Working with a digital agency, they may determine that the expected cost per click to get prospects to the website is $3 per click and the landing page captures lead information at a rate of 15%. Your school may be confident that historically 10% of all leads become students. In this scenario, the expected cost per new student is $200 ($3/.15/.1). Therefore, the media budget should be $10,000 (50 x $200)."
Additionally, as we are about to get into the specifics of your master summer term prospecting plan, think about what should be two of your digital marketing strategy's most important goals: SEO and CRO (search engine optimization and conversion rate optimization).
A Year-Round Digital Marketing Plan to Turn Prospects into Summer Students
Reaching summer pre-college prospects should not be thought of as single campaign with a fixed budget. To maximize its effectiveness, the lead generation and lead nurturing process should adapt to the different stages of your prospect's journey that begins at awareness and ends successfully with an enrollment.
An example "blueprint" of stages, goals, and resources is outlined below to help your school leverage this for a personalized plan.
Getting to Know the Pre-College Program Funnel
"It all comes back to spending limited media budget effectively," says Jeff Mack. "As you can see from the formula we outlined earlier, conversion rates are very important. Matching your marketing efforts to where they are in the decision-making funnel will maximize conversion rates and reduce costs to reach a desired goal."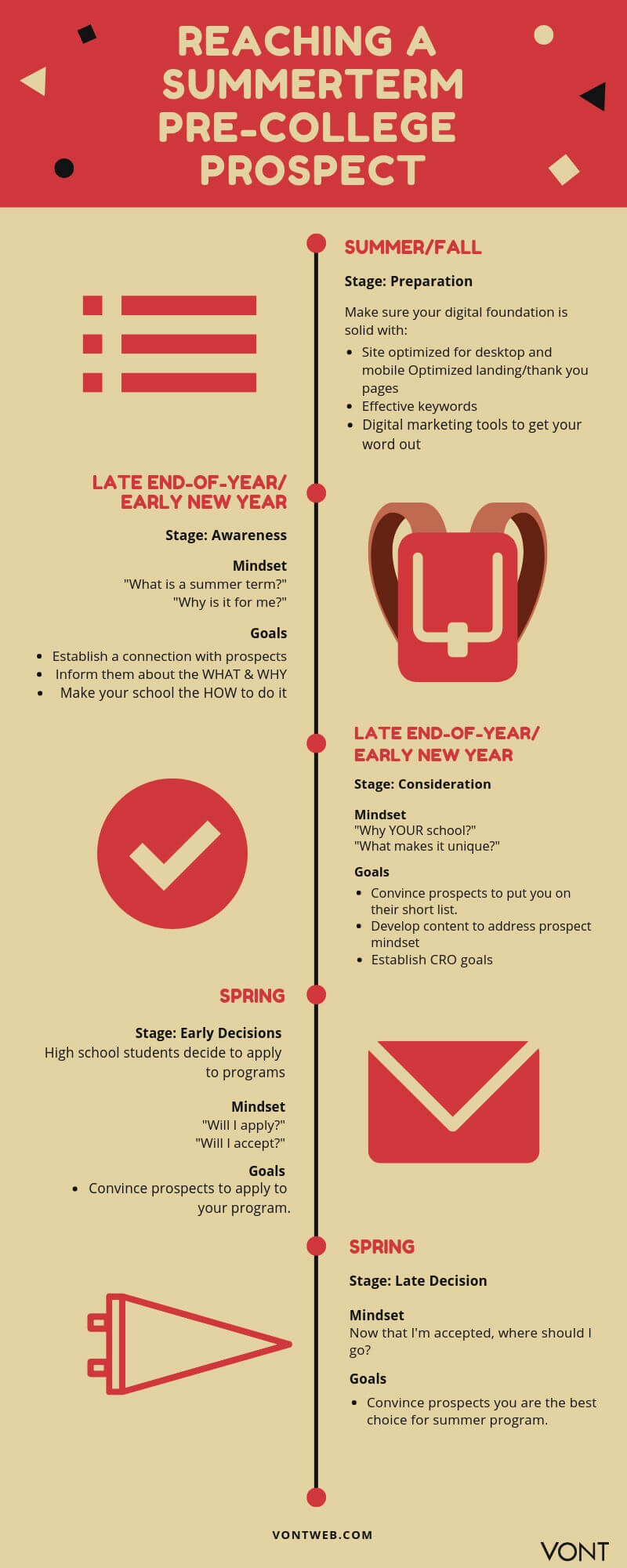 Summer/Fall: Preparation
Before prospective students become aware of your school's summer pre-college program, you need to make sure your digital foundation is solid. A quick checklist:
Landing pages: Simply, these are the pages you can connect with your prospect and convert them to a lead. As a general rule, highly optimized landing pages for paid campaigns convert better than normal site pages, and typically generate more leads. These pages need to have great content, relevant information, and solid CTAs above the fold. You must make sure all you most important landing pages are optimized for mobile as well as desktop devices and have thank you pages.
Thank you pages: Beyond the use of a destination page for a goal completion in Google Analytics, a "thank you page" presents you with an opportunity to optimize for a second conversion action. You can introduce another conversion action (like application help via chat) to encourage additional interaction between you and the prospect. More interaction means additional opportunities to turn inquiries into applicants and convert applicants into committed students.
Website optimization: Once your site is optimized for desktop and mobile, it's time to build the digital breadcrumb path so that prospects can find your summer program.
Keywords: There really isn't anything more important to your end goal (transforming prospects into students) than keywords. You need to thoroughly research the phrases that not only will help prospects find you, but will also put you ahead of your competition.

Go broad: Consider terms like "summer programs for high school students," "summer pre-college programs for high school students," "summer term programs for high school students," and "pre-college programs for high school students" that capture your overall industry.
Go narrow: Net it down further to what is specific to Courses like psychology, pre-med, and STEM research are pretty hot right now, but you'll want to capitalize on your unique programs that make you the best choice for students and parents.

Dotting your I's and crossing your T's: In order to drive traffic to your site (especially with organic search) AND get your prospects to complete the desired action, you need to focus on two key things:

SEO (Search Engine Optimization): This is essential to appear higher up on a Search Engine Results Page (SERP). Craft meta descriptions and titles that reflect the topic of the page and inspire the searcher to click on the result. Make sure you have supporting on-page SEO factors like keyword-optimized headlines and relevant, rich, contextual content.
CRO (Conversion Rate Optimization): With specific desired actions in mind (i.e. newsletter sign up, information request, application download, application submission, official enrollment), make it easy for your user to complete the action with effective elements such as headlines, copy, form (and form location), graphics, page layout, and compelling CTAs.
Digital Marketing Tactics: ALL of these tools are options to be used in every funnel stage, and here's a quick rundown of some of the most effective:
Google in-market targeting: Google knows when your prospects are looking for "summer pre-college programs" and closely related search terms and allows you to get in front of them at the right place and time.
Google PPC: Google Ads is split into two networks: the Search Network and the Display Network. When advertising on the Search Network, you place text ads in the search engine results. On the Display Network, you instead rely on an eye-catching banner or "responsive ad" to grab the prospect's attention.
Google remarketing: Google can enable sites to show targeted ads to users who have already visited your site, dually reminding them about you and possibly bringing them back for a conversion.
Other Paid search: Can help you reach prospective students who are searching for educational programs in Bing, Yahoo or international search engines that offer paid ads.
Social media: This is a huge space, but let's specifically look at Facebook, a great spot for both summer pre-college prospects and parents:

Facebook Live/ webinar: Great for offering up that "one-on-one" vibe for recruiters (without the massive cost to do face-to-face recruiting), this live video streaming is a fun, engaging way to connect with your prospects on many different topics in all phases of the funnel! Be sure to promote it in advance.
Promoted posts: Choosing your target audience and your budget, you can place ads at critical times of the user process.
Demo targeting: With audience selection tools, you can target the prospects that need to know about your summer pre-college program.

Email: This is a proven and effective way to reach your audience and drive conversions to your site. Use it to remind the prospect of upcoming events and deadlines. Build a relationship.
Chat: if you have capacity, this is a great way to let them contact you on a more personal level, so promote this functionality as they continue to move through the funnel.
CRM lead nurturing tools: If you need help keeping track of lead gen throughout the funnel, look to CRM software that can help you manage this important undertaking.
Testimonials: The best way to share the coolest parts about your summer pre-college program and the city/town you are in? Highlight some experiences from your past summer students!
Aligning Conversion Goals with Your Pre-College Prospect Funnel: Your website is ready for the new summer term, you have a solid understanding of the digital tools at your fingertips, and now it's time to enter the funnel and develop a relationship with your summer student prospects. Your strategy should be aligned with every step of the prospect journey, and here are some ideas to get you started.
Late End of Year/Early New Year: Awareness and Consideration
The prospects are on your radar and now it's time for you to get on theirs. Your goal here is to make them consider applying to your summer pre-college program.
Awareness
What is happening: This is when the prospects are quite possibly becoming aware of a summer pre-college program for the first
Likely mindset of the prospects: What is it? Why do it? Is this even for me?
Overall goal for you: This is a peak time to become a candidate in the running and you need to establish an initial connection. The how:

Develop content specifically addressing their mindset and promote through digital marketing tactics outlined below
Establish CRO goals for both desktop and mobile sites:

Get the prospects to request additional information
Entice the prospects to sign up for the mailing list
Ask that the prospects complete a quick contact form to receive a program brochure and/or other asset to build your database of opted-in leads.
Consideration
What is happening: This is when the prospects have become aware that you have a summer pre-college program, but now they have to narrow down their short list of schools to apply to.
Likely mindset of the prospects: A summer pre-college program sounds pretty good, but why your school? What makes it different and better than what is out there?
Overall goal for you: Convince them you are a top choice for a summer pre-college program. The how:

Develop content specifically addressing their mindset and promote through digital marketing tactics outlined below
Establish CRO goals for both desktop and mobile sites:

Get the prospects to request an application
Similar to the awareness stage, your goal will also still be to encourage prospects to request additional information and become a lead.
Digital Marketing Tactics: To meet your awareness and consideration stage objectives, you will use the same digital marketing tools (especially remarketing now that they have seen you in the awareness funnel) used in the summer/fall prep timeframe including (but not limited to):
Facebook Live / webinar
Google in-market targeting
Google PPC
Google remarketing
Other Paid search
Facebook Promoted posts and Facebook Demo targeting
Other Social media ads
Email
Chat
CRM System
Testimonials
Early Spring: Decision time
It's now time for the action. Applications and decisions are on the table, and there are two unique stages to consider.
Early decision
What is happening: This is when high school student prospects decide to apply to your summer pre-college program.
Likely mindset of the prospects: I have a handful of schools that seem good, and might as well apply to all of them. I may have a favorite, or I could be fairly open to any of them. I'm still on the fence about what I'll do next.
Overall goal for you: Convince them you are THE top choice for a summer pre-college program. Make them excited to apply! The how:

Develop content differentiating your school and programs and promote through digital marketing tactics outlined below
Establish CRO goals for both desktop and mobile sites:

Make sure the prospects get the info they need to apply.
Encourage them to submit an application.
Continue to encourage prospects to request additional information about financial aid or scholarships if they still need it (and you offer it).
Digital Marketing Tactics: You have them on the line and now it's time to bring them in. Your goal is to make prospects submit an application, ensuring they don't bail out at the last minute with a half-completed form. In addition to the other digital tools and tactics you have used in the previous stages, it's time to bring this home with some added personal touches:
Facebook Live: What better way to help prospects apply than to hold a Live streaming event to answer any and all of their application questions?
Google Remarketing Tools: Don't let them forget to complete an application.
Lead Nurturing: It's time to push the application process! Send personalized checklists, remind them about application deadlines, and offer up your contacts (chat, phone calls) for any last-minute questions or concerns before the submit button is finally clicked.

Email: Offer up next steps of staying in touch (i.e. another Live event, local happenings around your town/city to check out) to keep them connected and emotionally invested in the interim while the decision is being made.
Direct Mail: As a thank you to submitting the application, send them some cool shwag with your school logo. Build a relationship. Don't lose them now!
Late decision
What is happening: This is when the prospects have been accepted into your summer pre-college program.
Likely mindset of the prospects: I've been accepted to a few great schools. Where do I go?
Overall goal for you: Convince them you are the ONLY choice for a summer pre-college program. Make them enroll! Reinforce the relationship. The how:

Develop content differentiating your school and programs and promote through digital marketing tactics outlined below
Establish CRO goals for both desktop and mobile sites:

Push the prospects to become students with an official acceptance and the enrollment fee submission.
Digital Marketing Tactics: You are this close to finally transforming prospects into students. Use everything you've got, including your most one-on-one personalized strategies, to make them feel special and chosen to seal the deal:
Facebook Live / webinar: Let's congratulate the accepted students in an exciting event (bring on some former students and consider discussing some special events coming up this summer) to help them make up their minds to sign on the dotted line.
Lead Nurturing: Send personalized congratulations and next steps. It's time to make them really excited and driven to "officially" enroll.

Email: As a thank you to enrolling, reaffirm and validate their decision to be a part of your summer program with follow-up information, an official calendar (including special events). This is a personalized way to stay in touch and answer any questions before they arrive on campus! And if there is a hashtag for accepted students, encourage them to use it across their social media. Not only will they be proud to use it for their own accomplishments, it can already start building your awareness for next year.
Maximizing Your Digital Marketing Efforts for the Long Haul
Your summer pre-college program is a great opportunity for all involved. Not only will your prospects gain valuable experience into the college world, it may convince these young students that this is the place they want to return to for their undergrad degrees. And of course, this may lead to graduate degrees, and loyal life-long alumni. These are all potentially huge wins in an increasingly competitive higher ed market. In addition, your institution can repurpose and apply many of the budget-friendly tactics from this program to boost the overall effectiveness of your entire enrollment funnel.
As illustrated in this article, your digital toolbox and your budget will ebb and flow as your prospects move through your thoughtfully crafted lead funnel. From awareness to consideration to early and late decision stages, if you create a tailored solution with targeted messaging and aligned calls to action — match your tools and strategy to your prospects in the funnel — you'll be welcoming more students to your school this summer.
---
About VONT Performance Digital Marketing
At VONT we believe that change is the only constant in the digital world – and that excites us. Over the years, digital marketing has played an ever-growing role in higher education recruitment. From lead generation for inquiries, campus visits, and applications to increasing brand awareness and student yield – digital marketing and ongoing optimizations can have a significant impact on the objectives that confront today's higher ed marketer.
We believe in this idea of continual fine-tuning so much that we named our company VONT, which means to achieve exponential improvement in incremental steps. It is our core belief, and the reason why we are not simply a web design company or simply a digital advertising agency, but rather a long-term, single source partner providing a comprehensive array of web development and digital marketing capabilities for higher education clients.
In short, we're here so that our clients achieve success in the ever-changing digital world. If you'd like to learn more about VONT and the work we've done with our higher education clients, visit our Work page. Or, if you have a question, contact us. We'll get right back to you!
---
References:
"Unpacking the Student Decision Journey in Higher Education," a Google Ipsos Research report in February 2017
"The Online Preferences of College-Bound High School Seniors and Their Parents," Noel-Levitz' e-Expectations Report]