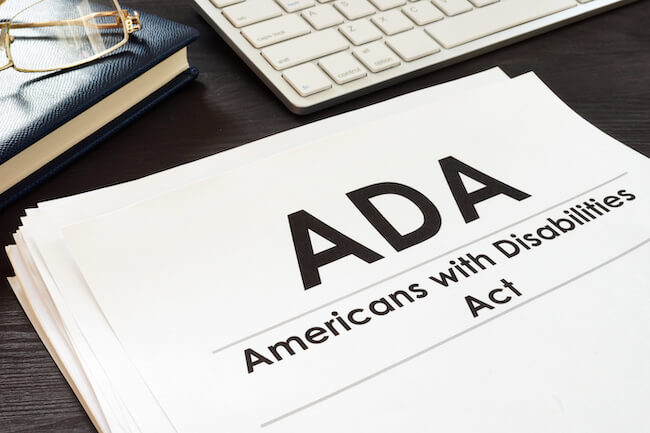 Signed into law by President George H.W. Bush in 1990, many of the operational guidelines established through the Americans with Disabilities Act (ADA) have helped shape the way Americans interact with financial institutions of all sizes.
In the past, ADA compliance efforts for banks and credit unions were focused primarily on making interior and exterior building environments safer and more accessible for people with disabilities. The most visible of these design modifications include installing entryway ramps alongside stairs, widening doorways, improving bathroom facilities, and adjusting the height of some teller windows to accommodate individuals in wheelchairs.
Other enhancements, such as adding auxiliary aids and braille on ATM machines, are so commonplace now that it's hard to imagine the technology existing any other way. Now that these brick and mortar physical environments have been modified to accommodate those with disabilities, attention has shifted toward making online environments easier to navigate as well.
How ADA WCAG 2.0 Makes Online Banking More Accessible
As more banking services continue to migrate to the digital world, it's important that online materials are produced and delivered in a way that makes them accessible to everyone. Originally published in 2008, the ADA WCAG 2.0 website accessibility standard was developed to help ensure that the content developed for banks, credit unions, and other financial institutions can be accessed and used by people with or without disabilities.
More specifically, ADA compliance for banks and credit unions means making information and digital services available and usable by physically challenged individuals who may be unable to see a screen, hear the audio included in a video, perceive color differences, or use a mouse.
Today, banks and credit unions of all sizes offer online services for customers to assist them with everything from researching currently available home and auto loan rates, to completing transactions such as online bill pay and money transfers. This ensures that these same transactions can also take place on a wider variety of devices including mobile phones, tablets and self-service kiosks located at non-bank locations.
While each of these new services provide a more convenient way to access and interact with a financial services provider, it also means that these online banking services resources can (and should) be developed or enhanced to provide an adequate level of accessibility for all users.
So, in the same way that physical structures have been recently redesigned or renovated to accommodate people with disabilities, online banking service providers are now required to do the same for their patron and members.
The question that every web developer should be pondering as they map out the plan for a financial service client's website is how well can someone with poor vision, or degenerative motor skills, navigate throughout the site?
WCAG 2.0 Recommendations and Principles Specifics
The specific criteria contained within the WCAG recommendations include a total of 38 different "checkpoints" used to evaluate the online content found within each website. These checkpoints are grouped into four (4) categories, referred to within WCAG 2.0 as Principles. These four "principles" include:
Perceivable – Is content and user interface information presented in a way that all users can perceive?
Operable – Are there interfaces and navigation components that users are unable to use?
Understandable – Are users able to understand the information as presented and operate the user interface?
Robust – Is the content robust enough to be interpreted reliably by user agents, including assistive technologies?
Rating Online Banking Accessibility Today
For nearly two decades, the Bureau of Internet Accessibility (BoIA) has been helping eliminate the accessibility digital divide for people with disabilities around the world. Early in 2018, the BoIA published research identifying the top 15 highest-trafficked banking websites and scanned them to rate each site's functional accessibility.
Using the BoIA's A11Y® Platform, a program built to identify compliance with Web Content Accessibility Guidelines (WCAG) 2.0, the purpose of the research was to provide a snapshot into the state of website accessibility within the banking industry.
Websites from large financial institutions, including JPMorgan Chase, Bank of America, Wells Fargo, TD Group, U.S. Bancorp and others were scanned and evaluated to determine how well each site could be navigated by someone with a disability; as measured against existing WCAG 2.0 criteria.
What the BoIA's A11Y Platform Found
While BoIA acknowledges that thorough website accessibility testing should involve a combination of automated and human review, initial scans can be a valuable way of quickly creating an overview about the accessibility of an individual website.
From this research, BoIA concluded that while the banking industry (as a whole) has made progress in making its online resources more accessible over the last 10 years, there is still room for improvement. According to BoIA's benchmark, the average failure rate of the accessibility of online content within the banking industry was 58%.
WCAG 2.1: What You Need to Know About the New Standard
In June 2018, additional requirements were added to WCAG 2.0 in version WCAG 2.1. The latest version maintains all of the WCAG 2.0 "principles" and addresses new technologies that did not exist at the time of the original publication. In particular, new attention was given to help ensure that websites and applications were accessible to people with disabilities on devices such as mobile phones, tablets, digital TVs, wearables, smart watches, digital appliances and other IoT ("Internet of Things") devices.
It is important to note that IT professionals, including web content developers, designers, IT tool developers and web accessibility evaluators need only be concerned with the most recent WCAG 2.1 standards. That's because all of the metrics developed for WCAG 2.0 are also included in WCAG 2.1. Often referred to as being "backwards compatible" it means that if a website is built/modified to be WCAG 2.1 compliant, it will also comply with the WCAG 2.0 requirements.
Will WCAG 2.1 Impact All Community Banks and Credit Unions?
In a word, yes. If your bank or credit union has not been notified about ADA compliance yet, it's likely that it will be very soon. In 2017, more than 800 website accessibility lawsuits were filed in both federal and state courts. By July of 2018, BoIA reported that at least 1000 lawsuits had been issued against the operators of websites that allegedly were deemed as being inaccessible to those with disabilities.
While many IT professionals within large, multinational financial institutions have been aware of and working toward making their websites WCAG 2.1 ADA compliant, oftentimes small to medium size banks and credit unions are unaware of its importance, until it's too late.
What tends to happen is that the organization first learns of the issue after they've received a notification of a demand or are named in a lawsuit that identifies their website as being difficult to use for individuals with poor vision, mobility issues, hearing loss or other disabilities.
Fortunately, organizations such as the World Wide Web Consortium (W3C®- W3.org), the main international standards organization for the Internet, have developed their own set of web accessibility guidelines for creating WCAG compliant websites.
According to the World Wide Web Consortium, "Following these guidelines will make content more accessible to a wider range of people with disabilities, including accommodations for blindness and low vision, deafness and hearing loss, limited movement, speech disabilities, photosensitivity, and combinations of these, and some accommodation for learning disabilities and cognitive limitations; but will not address every user need for people with these disabilities. These guidelines address accessibility of web content on desktops, laptops, tablets, and mobile devices. Following these guidelines will also often make web content more usable to users in general."
Essentially a WCAG 2 How-To checklist, the W3C's Online Quick Reference Guide How to Meet WCAG 2: Web Content Accessibility Guidelines (WCAG) 2 Requirements, Success Criteria and Techniques, will provide IT professionals within the financial services industry with enough information to develop a clearer understanding of how to work within the WCAG parameters. In addition, VONT has created a downloadable Website WCAG 2.1 ADA Compliance Checklist for Banks & Credit Union* that incorporates the essential WCAG 2.0 Principals we thought you might find helpful.
Taking a Closer Look at Accessibility Compliance Issues
Clearly, online ADA compliance is going to be an important consideration for web developers across most industries. While the target(s) of most of the previous lawsuits have included consumer goods companies such as clothing and apparel stores, telecommunications companies, restaurants and other e-commerce providers, banks and credit unions should not think themselves immune to potential scrutiny either.
Lawsuits aside, banks and credit unions should use this opportunity as a way to take a closer look at their online assets to ensure that it is communicating in a way that every customer will be able to understand.
Taking the time to evaluate your financial institution's message and the digital method for delivering it, can help banks to communicate their unique brand values better with every website visitor, no matter what their individual abilities may be.
The Takeaway
All community banks and credit unions should take steps to protect themselves against potential ADA/WCAG lawsuits by developing a plan to evaluate, modify and test existing online resources. Secondly, any and all new digital content should be created in accordance with WCAG 2.1 accessibility recommendations.
---
About VONT Performance Digital Marketing
At VONT we believe that change is the only constant in the digital world – and that excites us. When tools and environments are constantly changing, new opportunities to help our clients achieve success are constantly arising. Each new advertising technology, social platform, or design approach allows us to improve on the results we achieve for our clients.
We believe in this idea of continual fine-tuning so much that we named our company VONT, which means to achieve exponential improvement in incremental steps. It is our core belief, and the reason why we are not simply a web design company or simply a digital advertising agency, but rather a long-term, single source partner providing a comprehensive array of web development and digital marketing capabilities.
In short, we're here so that our clients achieve success in the ever-changing digital world. If you'd like to learn more about VONT and the work we've done with our financial clients, visit our Work page. Or, if you have a question, contact us. We'll get right back to you!
References
How to Meet WCAG 2 (Quick Reference) – W3C (World Wide Web Consortium) Web Accessibility Initiative.
Web Content Accessibility Guidelines (WCAG) 2.1 – W3C
Accessibility Analysis of Banking Industry Websites Released by BoIA – The Bureau of Internet Accessibility
2018's Flood of Accessibility Lawsuits – The Bureau of Internet Accessibility
* This document is provided for guidance and information purposes only. This website and downloadable information are not intended to provide legal advice. The information contained herein has been compiled from sources deemed reliable and it is accurate to the best of our knowledge and belief. However, VONT cannot guarantee its accuracy, completeness, and validity and cannot be held liable for any errors or omissions. Changes are periodically made to this website and may be made at any time. All information contained herein should be independently verified and confirmed. VONT does not accept any liability for any loss or damage whatsoever caused in reliance upon such information. Readers are advised that the material contained herein should be used solely for informational purposes.