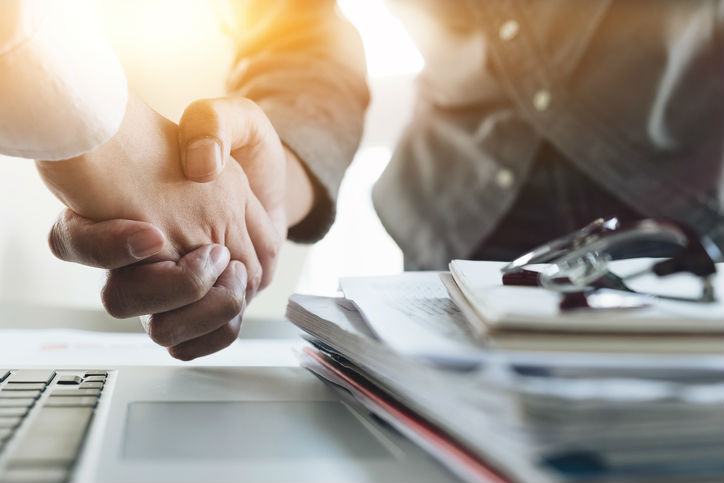 For community banks and credit unions, product promotion is an important step to building a robust customer base. And a successful product promotion campaign hinges on getting the word out about your various products to the right people.
From deposit products, auto loans, and credit cards to HELOC and mortgage campaigns, digital marketing can help you reach the right people at the right time.
To learn how to pull together an effective product promotion campaign, read on! Learn more about how digital marketing can help community banks and credit unions by downloading our basic plan/checklist.
Target your audience at the moment of intent with paid search
With its rich targeting capabilities and highest conversion rates of the digital channels, paid search is adaptable to any audience and quick to deploy.
Paid search focuses on those who are active in the market and looking for the product you're offering – for example, people searching on keywords such as 'mortgage rates' or 'car loans'. Put another way, your ad appears at the moment users are looking for what you have to offer.
And perhaps best of all, you only pay when the user clicks to visit your site or gives you a call (if they click from a mobile phone).
Here are some tips for an effective paid search campaign:
Simply repurposing desktop ads and designs for mobile devices won't cut it. Google gives preference to mobile-optimized text ads and extensions for mobile searches. Be sure to click the "mobile" option during setup.
Utilize free ad extensions to add value. Adding downloads, location extensions, or a call button will help customers commit to you.
Use short calls-to-action that are easy to see, decide upon, and react to on a small screen.
Test your copy. It's incredible how much a slight adjustment to ad copy can change an ad's performance. Simple A/B testing is useful and less complicated than other test methodologies.
Keep in mind: Because it appears at the time of a user's intention, paid search does not increase demand for a product, but rather harvests the already existing demand for it.
Programmatic offers a vast network of websites
The advent of programmatic advertising means community banks and credit unions can take advantage of a vast network of websites not included in Google AdWords. Programmatic is the broadest source of quality ad inventory available with targeting as rich as social media's.
Like Facebook and AdWords, programmatic allows community banks and credit unions to reach people 'in market' for mortgages, car loans, and other financial products. Unlike individual paid placement campaigns, you don't have to purchase display, mobile, and video ad space for a set amount of money on a website by website basis. Audiences can by targeted across a variety of sites, and budgets can be managed in real-time.
Here are some tips to help you get your programmatic campaign up and running:
Import you customer address list and target your product promotion to them.
Create look-alike audiences to help you reach non-customers.
Use past search behavior to target audiences.
Keep in mind: Programmatic needs to be actively managed to minimize fraud and maximize viewability.
Communicate with your customers using social media
Social media platforms such as Facebook, Twitter, Instagram, and LinkedIn provide powerful targeting capabilities that allow you to target ads to customers who you have emails for.
While each platform has a different name for the service (Custom Audiences from Facebook and Instagram, Matched Audiences from LinkedIn, and Tailored Audiences from Twitter), the tools work in the same way, are quick to deploy and provide high frequency at a low cost. In addition, creative is inexpensive with ads appearing as "native content."
Ads can use the rich demographic and psychographic data known about social media users to narrow your targeting, and can promote content, webinars, or ads for any financial product.
Here are some tips for promoting your financial products to your customers with social media:
Pull targeted email lists out of your customer data and securely load them into a Custom Audience.
One you create your audience profile, decide how frequently your post will get seen. The right timing is a matter of choosing a number frequent enough to get noticed, but not so frequent to turn off your customers.
Keep in mind: Most impressions and traffic will be on mobile devices, which can be harder to convert.
Create a high level of engagement through video
Short (15-30 second) video is a great way to reach audiences, build brand awareness, and create a high level of engagement.
Video can supplement network or cable buys, finding the hard-to-reach audience of those disconnected from television. Together with strong targeting capabilities, video provides the richest brand impression of digital channels.
Why is that? Because video introduces a human element to the mix and more easily reinforces your message through intonation, eye contact, and phrasing that clarifies your intention. Your visitors can see you, share your emotions, and more easily develop a relationship with you.
Here are some tips for promoting your financial products through short video:
Place video on Facebook, Instagram, YouTube, and through programmatic advertising
Use your Custom Audience profiles to reach your existing customers.
Keep in mind: Video can be costly to produce and is not the best at driving online traffic or conversions.
Remind customers about your products with remarketing
Your customers have begun using your website to bank online to pay bills, check balances, and transfer funds between accounts, but that may be all they do before they leave again. Wouldn't it be nice to bring the people who are already your customers back to look at all you have to offer?
Remarketing is a great tool to make that happen, because it targets those people who have spent some time on your website – whether or not they are existing customers – by showing them your ad or Facebook post while they are elsewhere on the Web or social media platforms. Remarketing allows you to gently and effectively remind them that you are here and just a click away.
In short, remarketing is a powerful tool for creating more leads for your financial products – usually with strong conversion rates.
Here are some tips to help you run an effective remarketing campaign:
Create tailored ads based on which areas of your site your users visited.
Good creative can be expensive, so be sure to get your message right the first time.
Keep in mind: It's important to use "frequency caps" to make sure your target audiences do not feel "stalked".

---
About VONT Performance Digital Marketing
At VONT we believe that change is the only constant in the digital world – and that excites us. When tools and environments are constantly changing, new opportunities to help our clients achieve success are constantly arising. Each new advertising technology, social platform, or design approach allows us to improve on the results we achieve for our clients.
We believe in this idea of continual fine-tuning so much that we named our company VONT, which means to achieve exponential improvement in incremental steps. It is our core belief, and the reason why we are not simply a web design company or simply a digital advertising agency, but rather a long-term, single source partner providing a comprehensive array of web development and digital marketing capabilities.
In short, we're here so that our clients achieve success in the ever-changing digital world. If you'd like to learn more about VONT and the work we've done with our financial clients, visit our Work page. Or, if you have a question, or contact us. We'll get right back to you!