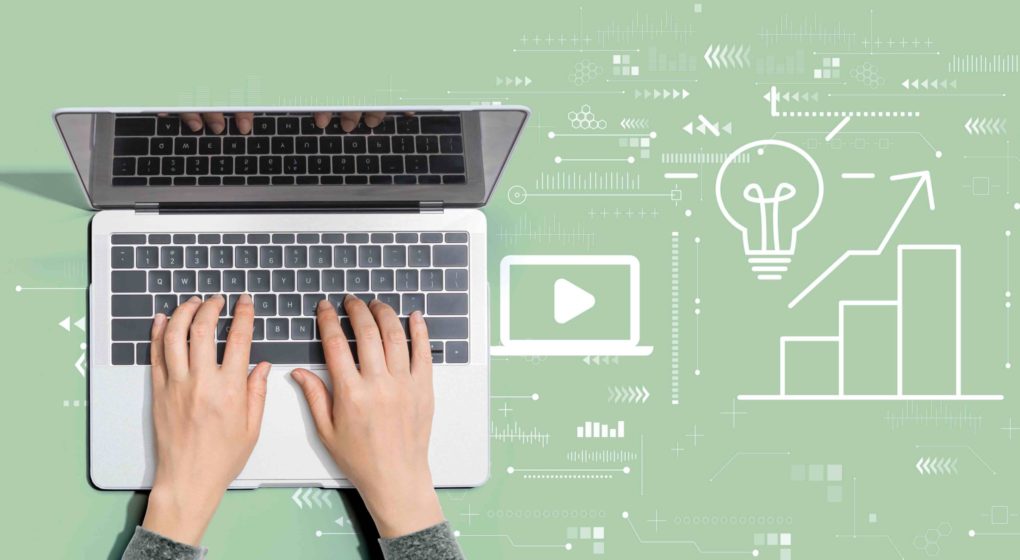 Content marketing has blown up in recent years as marketers realize the importance of building trust and engaging with consumers throughout their buyer's journey. B2B and B2C marketers alike realize the value of content marketing — whether it's to increase their lead funnel or reach, close new business, or drive repeat purchases — the case for content marketing is clear.
Although content marketing has been around for some time now, it's still a strategy many companies struggle with launching or maintaining long term. The key to a successful content marketing campaign is threefold: a strategic foundation, proper planning, and consistent measurement. Let's dive in.
1. Set a strategic content marketing foundation.
Our world is full of clutter, especially as of late with the COVID-19 epidemic. As a marketer, our task is to cut through that clutter to reach our customers with a message that is both valuable and empathetic. Outside of today's global climate, content marketing faces this challenge with every post and piece of content. One key to developing successful content marketing today and in the future is a strong, strategic foundation. This starts with setting your goals for the campaign. Is the objective to increase your brand awareness or drive sales of a new product? Whatever the goal is, it's critical that it be identified before a single piece of content is developed.
From there, break down identifiable KPIs that can be tracked and reviewed by your team throughout the campaign. If possible, establish benchmarks so you can gauge progress towards your goals right out of the gate.
Finally, identifying your audience (or audiences) and zeroing in on their goals, challenges, and questions will help your team develop the key messages that are sure to resonate with that audience throughout your campaign. Take note, those goals and challenges might change over time or due to outside forces (like right now with COVID-19).
With the foundation set and your team aligned around your marketing goals, it's time to build a plan.
2. Plan your campaign.
One mistake we see many companies make is they jump right to execution and content development before ever creating a plan. It is critical that you consider the platforms that are most likely to reach your target audience before moving to publishing. Your content doesn't need to be on every channel imaginable. It only needs to be where your audience can find it. If you don't know where that is, research can help you identify and narrow down those channels.
With the platforms selected, identifying the formats your content will be conveyed through is next. Many people enjoy learning and consuming information through video, but video might not be the right format for your audience, message or channel. Consider other formats such as infographics, blog articles, downloadable content, interactive pieces such as quizzes, polls, or discussion starters — the world is your oyster. Because content creation doesn't come cheap, consider repurposing content across many channels (where it makes sense, of course).
The key to successful content marketing is to have a consistent flow of content, and that takes resources. Think about the subject matter experts within your company, customer base, network, and beyond, that can help your team generate content.
Before you create, develop a content calendar that lays out the sourcing timelines, review deadlines and publishing dates for each piece of content. We recommend building your calendar in a shared document such as a Google doc so each person on your team can collaborate on its creation and updates. Also, laying out your content in a monthly calendar format can help you visualize the publishing cadence to better coordinate messages across platforms.
Now it's time to get to publishing!
3. Measure, and measure often.
We have a saying here at VONT that is: It's okay to be wrong, but it's not okay to be wrong and not know it. We take measurement very seriously, and we find it is another critical piece to a content marketing campaign. Creating compelling content can be expensive and time consuming, so it's important to measure your campaigns to drive improvement and justify the costs in the future. Setting up weekly or monthly team meetings to review your KPIs and progress towards goals will help your team understand the value of their efforts. Conducting these metrics reviews as a team can also help drive collaboration and ideation for future content.
As you identify opportunities and shortcomings, be sure to take those learnings and apply them to your future content plans. Just because something is written on the content calendar doesn't mean it needs to be set in stone. The content calendar should be a living, breathing document. Make changes as you analyze your data and consider how current events impact your strategy and messaging.
One final tip for a successful content marketing plan is to test things out. Don't be afraid to test out a new format, a new channel, or a new message. Content marketing is meant to connect with your audience, so finding new or more effective ways to accomplish this will only improve the effectiveness of your content marketing plan.
The Takeaway
Ready? Set. Go! Now that you know the steps, it's time to create. Set your strategic foundation, build a plan, and bring the team back together to measure along the way. You're now ready to tap into the power of content marketing to engage and connect with your target audience.
---
About VONT Performance Digital Marketing
At VONT we believe that change is the only constant in the digital world – and that excites us. When tools and environments are constantly changing, new opportunities to help our clients achieve success are constantly arising. Each new advertising technology, social platform, or design approach allows us to improve on the results we achieve for our clients.
We believe in this idea of continual fine-tuning so much that we named our company VONT, which means to achieve exponential improvement in incremental steps. It is our core belief, and the reason why we are not simply a web design company or simply a digital advertising agency, but rather a long-term, single source partner providing a comprehensive array of web development and digital marketing capabilities.
In short, we're here so that our clients achieve success in the ever-changing digital world. If you'd like to learn more about VONT and the work we've done with our client partners, visit our Work page. Or, if you have a question, contact us. We'll get right back to you!