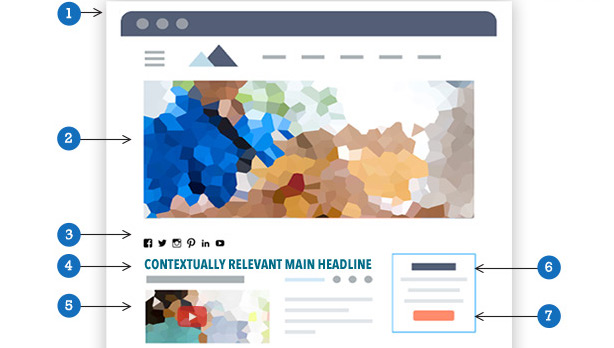 Historically, search engines like Google have played pretty close to their vest on what actually goes into their algorithm when it comes to ranking in the SERP. Because of this, optimizing your site for organic traffic has become both a science and an art, with complex and ever-changing best practices around on-page and off-page SEO. Regardless of the complexity, marketers know organic visibility is important for attracting qualified visitors and ultimately driving more qualified leads. SEO can be discouraging when you don't see results as fast as you would like, and to some, developing a page that attracts qualified visitors organically and shepherds them towards a conversion is equivalent to magic.
Not all of us are magicians though, so many marketers rely on the advice and knowledge of others who have figured it out through proven testing. We have pooled our knowledge from real applications of SEO best practices for our clients, as well as attended master classes from the masters themselves (Google). From this, we have developed a detailed list of proven SEO best practices that both drive increased organic visibility and higher conversion rates for your next campaign.
From this research and analysis has come what we call "the trigger page." A trigger page is called that because it's authoritative in-depth content delivers value to your audience, making them want to share it. A trigger page has two primary objectives:
To maximize a site's organic visibility for a specific topic, and
To get those visitors over to a conversion opportunity related to the same topic.
Think of it as a long-form page of content giving you everything you need to know on a single topic, similar to a Wikipedia page. The page content should be positioned as an in-depth resource and written in an authoritative, yet helpful tone, to give it the best chance of ranking well. Following, we'll break down key SEO best practices and features of a trigger page to show you how to improve your organic visibility for a specific topic.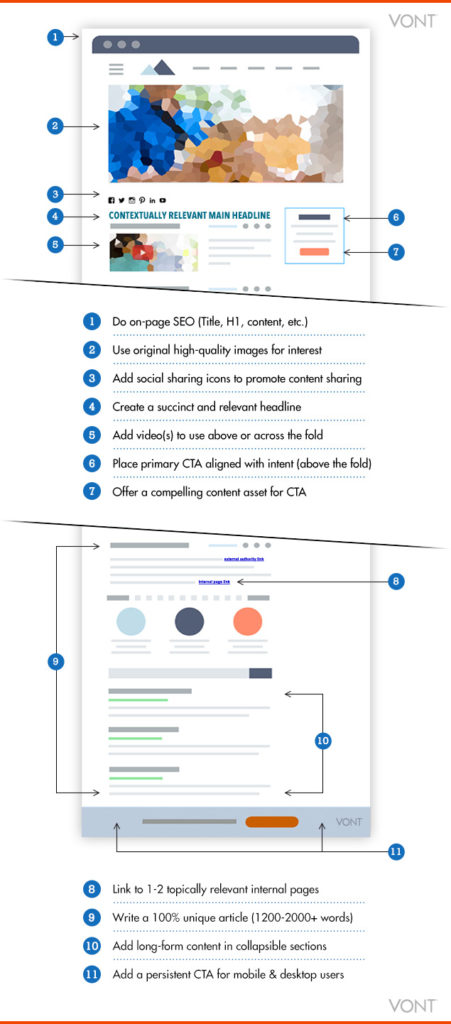 1. Do your on-page SEO
If you are focusing on increasing your organic visibility for a topic, then it likely goes without saying that on-page SEO is still important here (but we're going to say it anyway). Make sure you take the time to do your on-page SEO such as writing a unique meta description, adding image alt tags and constructing a compelling yet informative H1.
2. Use original, high-quality images
The saying "a picture is worth a thousand words" is true. A picture can help to convey or simplify a complex concept, sometimes better than words can. Using original, high-quality images is important for capturing visitors' attention, conveying a message and breaking up your content. Also, don't miss the opportunity to include an image alt text that is related to the topic for further SEO benefits.
3. Add social sharing icons to promote content sharing
Social sharing is the digital version of word of mouth every marketer strives for. It helps to broaden the reach of your content by having your followers share with theirs, and this can attract additional, new qualified visitors to your content. In turn, this helps your organic visibility because when they come, they engage and they share, it proves to search engines this content is going to provide a good and relevant experience to future searchers for the same topic.
4. Create a succinct and relevant headline
Your headline serves dual purposes for both organic visibility and driving engagement with the page so make sure you spend some time here crafting the right headline. From the SEO perspective, you want to make sure your keyword is contained in the headline of your page as part of H1 best practices. From an engagement standpoint, your headline is prime real estate for quickly capturing the visitor's attention by appealing to their challenge or need. Make sure your messaging here is easy to scan, while doing justice for your topic from an SEO standpoint
5. Align the primary call-to-action above the fold
The call-to-action is critical for converting the visitors that land on your page into known, engaged leads in your database. By including this call-to-action above the fold, it is right in the eyesight of the visitor the second they land on the page. For those that are ready to convert right then and there, you have saved them the scroll.
6. Offer a compelling, intent-based offer
Adding any call-to-action to the page is honestly not enough. A page that is focused on driving meaningful engagement that leads to a conversion will include a call-to-action that is married to the level of intent of the visitor based on the content of the page. What do I mean by this? When prospects go to research a topic in Google, their questions are typically aligned to the top, middle or bottom of the funnel, indicating their level of purchase intent. If the topic of the page is focused on "What is…" or "Why is…" questions, then the content offer in the CTA should also relate to something top-of-funnel.
7. Write unique content
Search engines were not always as sophisticated as they are today, and in the past, the quantity of content you had on your site primarily determined your ranking for a page (hence, keyword stuffing was a thing). Today though, search engines put higher emphasis on quality over quantity when determining which pages rank. The quality of your content is determined by many factors, but a good rule of thumb is to strive for your page to contain original, informative content that is in-depth on a single theme in order to be unique.
8. Add a video
Video content is one of the preferred formats consumers like to learn from during their research. It has a critical part in your page because it helps to drive engagement by keeping a person hooked to the page (your content) for longer and it can help to convey otherwise complex topics in an easier, more digestible way similar to images.
9. Link to topically relevant internal pages
Links are important in order to help visitors drill deeper into related content that is relevant to their research. In order to prove your authority in a topic to search engines and drive visitors deeper into relevant pages of your site, you want to include links within the body of your content over to other related pages and content offers. This helps all stakeholders see the deep web of quality content you have created on a specific topic.
10. Add long-form content in collapsible sections
In order for the page to maximize its ability to be seen as authoritative in a topic, there is going to need to be (high-quality) content and lots of it. In an effort to not sacrifice the usability of the page, add this content into collapsible sections so visitors can drill into specific questions and sections that interest them most. Remember – formatting is your friend and using variations of your topic keyword in the H2s and H3s of the page can also help boost your SEO.
11. Add a persistent CTA for mobile and desktop users
Adding a persistent CTA to your page means it appears and anchors to live on top of the page content, while not impeding the reader's ability to read the on-page content. This element is important for all visitors, regardless of device, so whatever point they are at in the content, they are served an opportunity to convert from a stranger to lead by clicking through on the call-to-action.
Interested in attracting and converting even more qualified traffic? Download the full list of on-page and off-page SEO best practices.
---
About VONT Performance Digital Marketing
At VONT we believe that change is the only constant in the digital world – and that excites us. When tools and environments are constantly changing, new opportunities to help our clients achieve success are constantly arising. Each new advertising technology, social platform, or design approach allows us to improve on the results we achieve for our clients.
We believe in this idea of continual fine-tuning so much that we named our company VONT, which means to achieve exponential improvement in incremental steps. It is our core belief, and the reason why we are not simply a web design company or simply a digital advertising agency, but rather a long-term, single source partner providing a comprehensive array of web development and digital marketing capabilities.
In short, we're here so that our clients achieve success in the ever-changing digital world.
If you'd like to learn more about VONT and the work we've done with our client partners, visit our Work page. Or, if you have a question, contact us. We'll get right back to you!