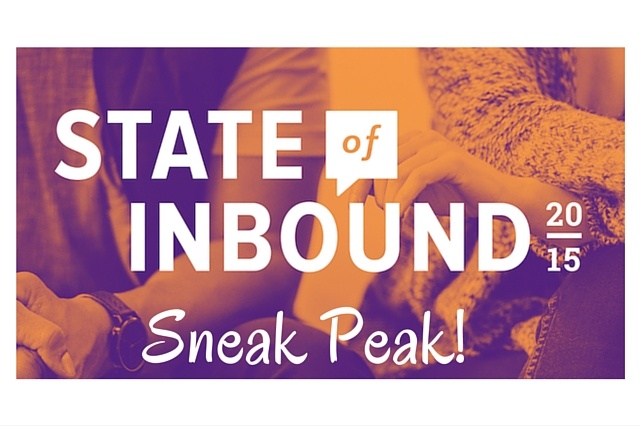 Each year HubSpot surveys thousands of the world's foremost marketers and salespeople about their priorities, challenges, and favored tactics, and publishes the results in an annual report. HubSpot's State of Inbound 2015 reflects how those using inbound methodology have a leg up in the marketing world versus those who have yet to adopt it. (If you're not familiar with inbound, be sure to read our post explaining Inbound Marketing.) Interested in learning more? Here's your chance to get a sneak peek at the report.
Survey respondents
In putting together the report, HubSpot gathered data from nearly 4,000 respondents from more than 150 countries. The majority of respondents are marketers working for B2B small- and medium-sized companies with half of the companies generating under $1M a year in revenue. Only one-third of respondents have an affiliation with HubSpot.
Who uses inbound?
Today three out of four marketers globally favor an inbound approach to marketing. Inbound's ability to level the playing field between large companies with sizeable marketing budgets and small/medium companies with less available marketing spend is the reason why. In fact,
Inbound marketing is the core marketing strategy for small/medium companies (those with 25-200 employees) either fighting for growth or just beginning to enter the growth phase.
Over six times as many respondents from companies with few than 25 employees cited inbound as their primary marketing approach.
Companies with over 200 employees used both inbound and outbound marketing strategies equally.
Viewed in terms of marketing spend, inbound is the preferred marketing approach for the majority (58%-83%) of companies with marketing budgets under $5M.
In addition, inbound is the preferred marketing strategy regardless of company type (B2B, B2C, or nonprofit). Of the nearly 4,000 respondents, inbound was the marketing approach for:
76% of B2B companies
76% of B2C
78% of nonprofits.
In short, it doesn't matter who your customers are, inbound is the preferred choice for reaching them.
Inbound and ROI
Inbound campaigns achieve higher ROI than outbound. According to the report:
Companies are three times as likely to see higher ROI on inbound marketing campaigns than on outbound. This holds true across different company sizes and budgets.
42%-52% of companies with marketing spend ranging from $25,000 or less to more than $5M saw higher ROI using an inbound approach
Only 8%-18% saw higher ROI using outbound.
ROIs benefitted from an inbound approach, no matter the size of marketing spend.
Other results:
Tracking and proving positive ROI in turn resulted in increased marketing spend. Respondents were 20% more likely to receive a higher budget in 2015 if ROI was tracked in the first place, and twice as likely to see an increased budget if that tracked ROI was shown to be higher than in 2014.
Organizations that saw an increase in ROI from 2014 to 2015 were more likely to employ both staff writers and guest contributors for content creation than less successful organizations.
Respondents who achieved greater ROI in 2015 than 2014 were approximately 20% more likely to check their marketing analytics three or more times per week.
Inbound is a long game
Marketers recognize that inbound is an ongoing strategy that gets better with iteration. According to HubSpot, both past success and past failure with inbound correlate with an inbound marketing budget increase.
97% of those who experienced past success with inbound marketing increased their budget
81% of those who experienced a past failure also increased budget as a result.
Inbound and sales
For the first time, this year's report included salespeople. Why? Because, as HubSpot describes it, sales and marketing are two sides of the same coin. Marketing's lead generation work will go to waste if salespeople don't follow up. Here are some highlights from the sales section of the report:
Prospecting is the most difficult step of the sales process. Salespeople lack vital information before they reach out to leads.
Despite articles declaring the end of field sales, hiring data shows that outside reps are getting hired at approximately the same rate as inside reps.
Executive buyers don't trust salespeople. To regain credibility, salespeople should use helpful content and become active on social networks.
Download the full report
If you'd like to learn more about inbound, simply click here to access the full State of Inbound Marketing & Sales 2015 Report.
---
About VONT Performance Digital Marketing
At VONT we believe that change is the only constant in the digital world – and that excites us. When tools and environments are constantly changing, new opportunities to help our clients achieve success are constantly arising. Each new advertising technology, social platform, or design approach allows us to improve on the results we achieve for our clients.
We believe in this idea of continual fine-tuning so much that we named our company VONT, which means to achieve exponential improvement in incremental steps. It is our core belief, and the reason why we are not simply a web design company or simply a digital advertising agency, but rather a long-term, single source partner providing a comprehensive array of web development and digital marketing capabilities.
In short, we're here so that our clients achieve success in the ever-changing digital world. If you'd like to learn more about VONT and the work we've done with our client partners, visit our Work page. Or, if you have a question, contact us. We'll get right back to you!