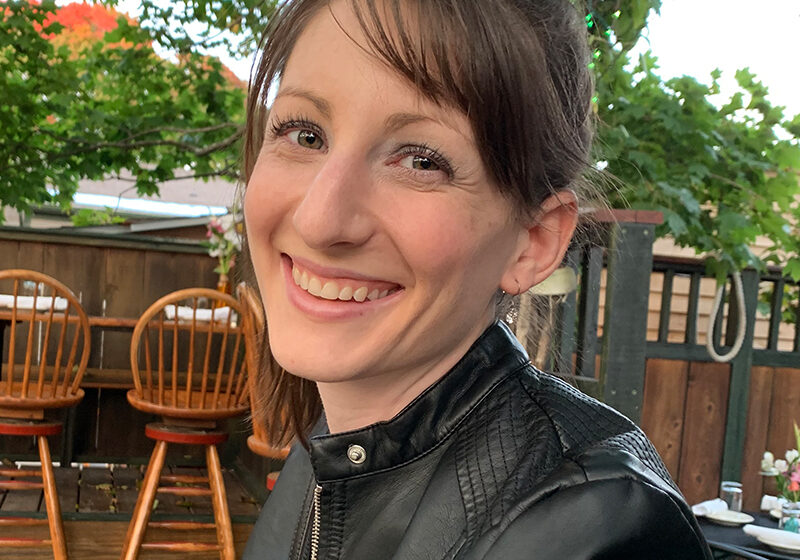 Before this whirlwind of a year comes to an end, we have one more team member from Ethos|VONT that deserves a proper introduction. If you haven't caught up with us recently, check out our last two blogs to learn more about E|V team members and what it's like working for a multiplatform branding agency. Now, meet Jen Porto – Web Development Account & Project Manager.
Meet Jen
You'll find that the majority of people who enjoy agency life are highly motivated self-starters – including Jen, whose career path has been a winding road driven by her passion for learning. Ever since childhood, Jen has been enthralled with reading and writing, and she was fascinated by commercials and brand placement in film from a young age. Throughout her life, those curiosities stayed with her, eventually influencing her decision to pursue a Bachelors degree in Theatre from UMaine, and later a Masters degree in Public Relations from Boston University. With the primary goal of becoming well-rounded in her knowledge and experience, Jen learned everything she possibly could about all different facets of the marketing field.
"I was a communications intern for a Boston hospital, wrote press releases for a NYC public relations agency, developed blog articles and designed ads for a nutrition center, worked for a digital marketing agency developing grassroots campaigns, and more," Jen recalled. "This was especially beneficial because I graduated into a recession… TWICE. The entry-level job market was challenging to say the least, but having wide-spread experience and a Master's Degree helped me land a job back in Maine over 10 years ago at a full-service advertising agency."
Jen's Work Pays Off
After returning to the pine tree state, Jen continued building her career by becoming a Jane-of-all-trades.
"Through agency life as well as working on the client-side of the house, I've been involved in all aspects of integrated campaigns, including: writing and pitching press releases; managing influencer marketing initiatives; providing media training; developing social media content calendars; designing e-newsletters; testing websites; consulting on print and digital ad designs; managing client and production relationships; all while developing/monitoring budgets and milestone timelines." Jen continued. "Basically, I've worn a lot of hats over the past decade for clients across nearly every industry."
Jen's skills and experience grew with each role, and eventually she discovered that being very well organized translates well into the Account and Project Management space.
Jen transitions to E|V
Drawn to our reputation for work-life balance and being a fun place to work, Jen knew E|V was the right place for her after her first interview.
"I was interested in the position itself, but I knew it was the right fit when I met the team during my interviews," Jen expressed. "The people here are my friends, and I genuinely like everyone I work with. That's not a small thing – when you're working in a fast-paced environment, you really need to be surrounded by kind, thoughtful individuals. We're incredibly lucky to have that here."
Not only has Jen established great relationships with her colleagues, but she has learned a lot from them too.
"My colleagues are all exceptionally talented and intelligent; I'm immensely fortunate for the opportunity to absorb information from them on a daily basis. I came to E|V with experience working as an Account Executive and Project Manager, but I had primarily worked with small teams, applying predictive PM practices to most projects. I've learned extensively from my E|V team about all areas of digital development since working here – particularly with regard to SEO, UX, and web development best practices, which are consistently moving targets."
Jen's knowledge continued to blossom as she expanded into the Web Development space on the VONT team. Since starting here, she has completed a lot of professional development training, helping her and her team members become more agile in the constantly changing digital space.
Jen's Day-to-Day
"Have you ever raked an entire yard full of leaves into a neat pile and then had a gust of wind blow them in every direction?" From Jen's experience, this is a fairly accurate depiction of what digital project management looks like.
"I don't really have a typical day-to-day," Jen explained. "My job mainly requires anticipating the unexpected. Each day, I have a daily stand-up meeting with our web development team where we discuss our current projects and what we need from each other to be successful. From there, my day forks in many different directions. One minute, I can be drafting a proposal for a new website redesign project, and the next I'll be answering team questions about the strategic intent for a landing page component. I monitor budgets and timelines while keeping an eagle eye on my inbox to make sure that client questions are quickly addressed, then I'll hop into an integrated meeting about an upcoming campaign where we need to determine the deliverables and implementation approaches necessary to achieve the campaign objectives. Honestly, each day is a whirlwind, but I wouldn't want it any other way."
Currently, Jen and the web development team are working on developing a new website component that generates dynamic chart libraries from year-to-year data for a non-profit client. Jen expressed that this project has been very unique, and she has enjoyed seeing the proof of concept prototypes come to life.
Jen plays into the bigger picture at E|V
Jen's daily tasks are as wide-ranging as the people she corresponds with throughout the agency.
"In my role, I work with pretty much every department across the agency in some capacity. I most closely collaborate with the web development team, but I'm also in daily communication with every account service colleague across E|V. Most campaigns require some kind of website component, so I work closely with agency strategists to determine how the web presence will come to life, and then I collaborate with other departments and PMs to identify where the website work intersects with other campaign dependencies. I compile and disseminate that information to the designers, developers, copywriters, SEO specialists, and other talented folks who are ultimately responsible for executing the project work."
Want to learn more about agency life? Check out our other blogs to meet more of our team members we've introduced in this series.
About VONT Performance Digital Marketing
At VONT we believe that change is the only constant in the digital world – and that excites us. When tools and environments are constantly changing, new opportunities to help our clients achieve success are constantly arising. Each new advertising technology, social platform, or design approach allows us to improve on the results we achieve for our clients.
We believe in this idea of continual fine-tuning so much that we named our company VONT, which means to achieve exponential improvement in incremental steps. It is our core belief, and the reason why we are not simply a web design company or simply a digital advertising agency, but rather a long-term, single source partner providing a comprehensive array of web development and digital marketing capabilities.