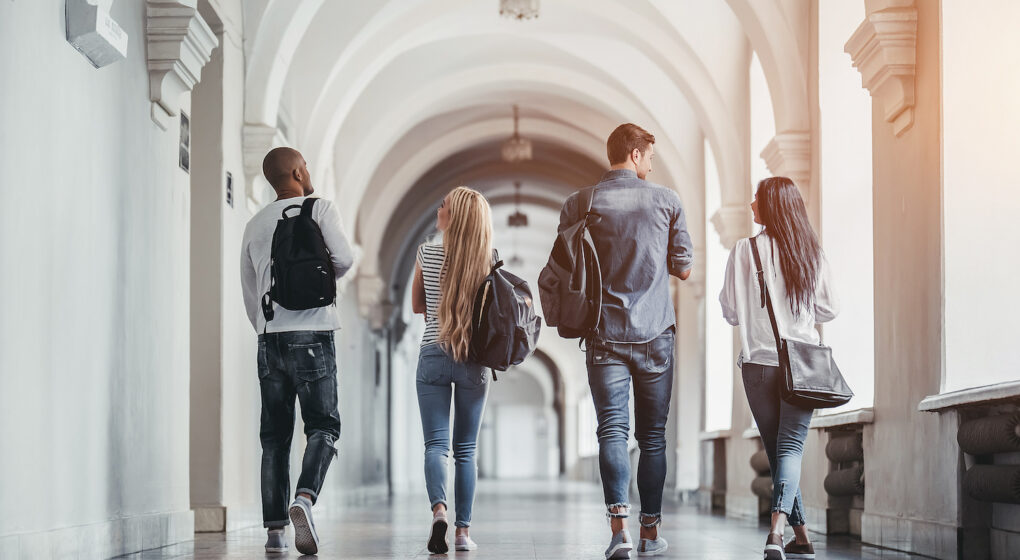 As a higher education marketer, your first instinct probably isn't to whip out your cell phone and post a promotional video to TikTok. But, maybe it should be. In recent years, the social media world has seen massive growth and transition from some of the older, more established platforms like Facebook and Instagram, to newer, 'hipper' apps like TikTok and Snapchat. These newer platforms are especially popular with millennials and Gen Z, both digitally fluent generations who spend a lot of their lives online.
TikTok was the most downloaded app of 2021 – both globally and in the US. In September 2021, the app surpassed 1 billion active users, the slight majority of whom are female, and the largest segment of whom (42%) are aged 18-24. On TikTok, an average user session lasts 10.85 minutes, making it the most engaging social app out there.
Snapchat, another uber-popular platform for younger crowds, has similarly impressive user data. Snapchat has over 330 million daily active users, and more than a half billion monthly users. Nearly half of those users (48%) are between the ages of 15-25, so it really offers a prime target for higher ed marketers. Snapchat's largest market is North America, and its users spend an average of 30 minutes in the app every day.
Strictly by the numbers, there's good evidence to suggest that colleges and universities should be using these platforms. But what about their practicality in the real life of a higher ed marketer?
So many social platforms, so little time
As someone in the higher education marketing space, it's not uncommon to be pressed for time, and/or juggling a million different priorities. The question is always: where do I put the bulk of my time and money to ensure the biggest return?
Older social networks, like Facebook and Instagram, are often the first place marketers go, and for good reason. These tried and true platforms offer so much customization and rich reporting, and there is loads of inspiration to take pointers from. It's also fairly easy to "set it and forget it," meaning you create a set of graphics and posts you can use across platforms more than once.
But specifically for the higher ed market, age limitations on Facebook and Instagram targeting make it more difficult to reach an important segment of your demographic – those prospective students who are making their first-ever higher ed decisions. And as time goes on, both Facebook and Instagram are skewing older with their user bases, becoming platforms for college parents, instead of college students.
So if the tried and true platforms are becoming less relevant, then what's a marketer to do? Test out TikTok and Snapchat, of course!
A quick look at how these platforms work
While the two platforms vary in how content is created and shared, many of the best practices are the same. This is largely because the audience you're trying to reach has the same interests and attention span regardless of what platform they're consuming from. So you just have to get smart about giving them the right content in the right places.
TikTok is a platform full of memes, engaging videos, and people doing any number of ridiculous things to get a laugh. Much of the content is highly creative and fun. As a marketer, this means you can also get in on the fun! TikTok is unique in that their algorithm (based heavily on the use of keywords and hashtags) might cause a video from an account with few followers to go viral, so you don't necessarily need to have the biggest presence or the most followers to find success on the app.
Snapchat was built around the idea of disappearing messages. A 'snap' – a photo or video you share – disappears after it's been opened. You can post snaps to your Snapchat Story, or save them to your Memories, similar to how you can save stories on Instagram. With loads of filters, geofilters, stickers, and ways to tag your snaps, there's lots to do to personalize what you share.
How to Use TikTok and Snapchat for Enrollment Marketing
There are a few core tenets to keep in mind as you're exploring these two apps, and how to create relevant, relatable content for them:
Your target demographic has a short attention span, so communicate your point quickly. Viewers should know what they'll get from your content within a couple of seconds of seeing it. TikTok allows videos up to 10 minutes in length, but most metrics suggest shorter (<60 seconds) is still better. For Snapchat, you'll want to keep your content short and sweet – 15 to 30 seconds.
Your content needs to be relatable, and should have some kind of emotive or sentimental component viewers can connect with. This demographic won't consume content that isn't relevant to them, or that doesn't resonate with where they're at in life.
Look at the types of content that already perform well and emulate those. How-to videos, anything with humor, videos related to trending hashtags, or with a local component all do well – and use those formats with the branding and voice of your institution.
Expect to plan and execute at speed. Content on these platforms moves quickly, so you should plan to create and execute content fairly quickly, and keep a running idea of fresh new ideas at the ready.
Both TikTok and Snapchat provide opportunities for your institution to share its personality and have fun engaging with prospective students at all points of the marketing funnel. While you don't need to be using both platforms concurrently all the time, let's look at a few ideas to get a better understanding of how these platforms might work for you at each stage.
Funnel Stage: Awareness
This is probably where the bulk of your efforts will fall, since it's the top of the funnel and we want to fill it with as many prospective students as possible. You should have a clear call to action here that encourages prospective students to learn more. One of the best ways to leverage either platform at this stage is to bring in current students to help co-create content.
That could include things like:
A student day-in-the-life video with snippets of typical campus experiences
A Q&A with current students on clubs, extracurriculars, and anything that might be of interest to a prospective student
An inside look at campus life with a tour guide, exploring rec spaces, dining halls, and whatever hidden gems are located on your campus
Consider partnering with your school mascot, a popular professor or members of a sports team for a fun perspective. This is the time to express your campus personality, quirks, inside secrets, and anything else that could be compelling, and reason for prospective students to inquire or enroll.
Funnel Stage: Lead Gen
Similarly to the awareness stage, you want to pull prospective students in here with compelling content that makes them want to attend your institution. Your call to action at this point should be encouraging prospective students to inquire for more information. Many of the above ideas will work here too, but instead of prompting them to learn more, you'll ask them to go a step further and inquire, directing them to a specific landing page on your website.
It's worth noting that TikTok recommends universities avoid using logos or other brand assets in their videos. Instead, let academic expertise and student experience speak for themselves. On Snapchat, the opposite seems to work best – so you can go wild with branding!
Funnel Stage: Nurture
At this stage, your content gets less promotional and more action-oriented. Your call to action here is simple: get prospects to apply. You might capture a quick video walk-through of the actual application process, what's required from students, and where exactly they apply. Make sure these efforts line up with application deadlines so that they are timely to the audience.
Funnel Stage: Yield
Your students have been accepted – hurray! Enrollment is an exciting time, so you'll want to bring some celebration to this step. This is perhaps the most important call to action of all – get accepted students to enroll. Sharing a look at the post-enrollment process works well here – what students can expect the experience to be like once they've been accepted and are starting to think about their time at your school. Help them imagine what their campus experience might look like. You can also use this step to encourage people to take a step to put down a deposit or similar step to confirm their enrollment.
The bottom line
The most effective way to target 16-22 year olds (and really, any audience) is to meet them where they're at. If you're present on the platforms where they spend hours of time every week, you have a much higher likelihood of reaching them with your messaging.
It's important to remember that the content on both platforms has a shorter lifespan than other apps, so the need to create more content with more frequency is likely. We recommend you start small, leverage students already on-campus to help co-create content (or better yet, be campus advocates for you), and see what kinds of results you're achieving after a small pilot program – maybe 3 months to start.
On TikTok, you'll want to look at the following metrics to get a feel for success:
Reach (video views, reach of a specific hashtag)
Engagement (number of likes, comments, or shares)
Conversions (increase in inquiries or enrollments through the campaigns, or website traffic)
On Snapchat, the most important topline metrics include:
Unique views (the number of people who viewed your story)
Reach (how many followers saw your Snapchat content over the past week)
Completion rate (the percentage of users who watched your Story from beginning to end)
Screenshot rates (an indicator of how your content is resonating, since this app doesn't have likes, comments or shares)
If time and budget only allow a foray into one app, we'd go with TikTok. With a larger user base, and more flexibility around the types (and length) of content you create, there's more opportunity for adding your own creative flair, reaching a larger group of prospective students, and finding what works for targeting your audience.
About VONT Performance Digital Marketing
At VONT we believe that change is the only constant in the digital world – and that excites us. When tools and environments are constantly changing, new opportunities to help our clients achieve success are constantly arising. Each new advertising technology, social platform, or design approach allows us to improve on the results we achieve for our clients.
We believe in this idea of continual fine-tuning so much that we named our company VONT, which means to achieve exponential improvement in incremental steps. It is our core belief, and the reason why we are not simply a web design company or simply a digital advertising agency, but rather a long-term, single source partner providing a comprehensive array of web development and digital marketing capabilities.