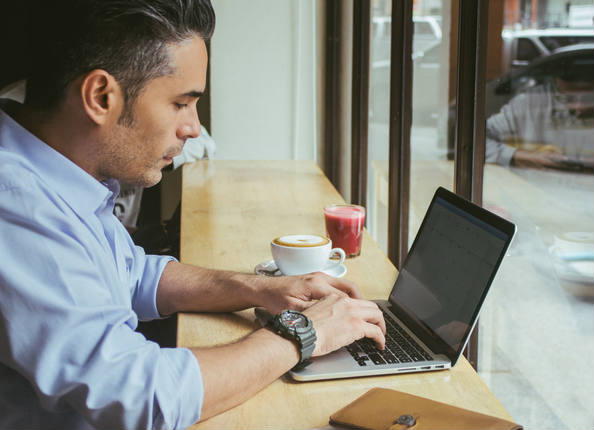 6 Reasons Why You Need a Business Blog
Posted: July 24, 2017
If you'd like to be found and seen more often in the digital world, then it's time to consider a business blog. Just like social media, email marketing, or other search marketing venues, a business blog is simply another marketing channel for your business to take advantage of. In fact, blogging is one of the best ways to help get your business in front of the very people who are looking for what you have to offer.
Reason #1 to create a blog – stats that speak
Consider the following stats. According to inbound marketing company, HubSpot:
Nearly 40% of US companies use blogs for marketing purposes.
Companies that blog have 55% more website visitors.
B2C companies that blog get 88% more leads/month than those who don't.
B2B companies that blog get 67% more leads/month than those who don't.
With stats like that, it's clear why blogging has become more of a must-have than a want-to. But if you need more convincing, here are 5 more reasons to begin a business blog.
Reason #2 – A blog gives you a seat at the table.
Times have changed. In today's world, the buyer holds all the cards.
Why? Because the digital world provides a platform through which information is readily available to help people make their buying choices before they make contact with a business. Withholding information until buyers come to you no longer works because the majority of the decision has already been made.
A blog allows you to take part in that decision-making process.
Reason #3 – A blog creates trust and establishes your authority.
In a recent HubSpot survey, 71% of respondents said that blogs affect their purchasing decisions either somewhat or very much.
By answering those questions your customers are seeking the answers to you become a trusted advisor and demonstrate that you're ready to help. By providing your own take on industry issues, you establish yourself as a thought leader, as someone to turn to when advice is needed.
Reason #4 – A blog helps attract organic traffic.
In order for your website to be a valuable business asset, you need people to see your site.
The more pages you have on your website, the more chances you have to rank with search engines. Because you can't add pages willy-nilly to your site, a blog is the perfect area in which to create new content on a regular basis.
Each post (page) you add provides new content for the search engines to crawl and list on their search engine results page (SERP). The more times you show up on a SERP, the more likely visitors will come to your site.
Plus, getting found doesn't stop with search engines. Each new blog post provides another opportunity for someone to share your post on social media, or other websites to link to you.
Reason #5 – A blog keeps on giving.
A blog is a workhorse that doesn't stop working for you once you've put up a new post.
Unlike pay-per-play media such as radio, pay-per-click (PPC) or television, a blog post will continue to run and attract visitors to your website long after it is paid for. And unlike social media posts that tend to disappear figuratively if not literally, blog posts remain on your site just waiting for the next visitor who is searching for the answer to a question you addressed. So a post in January may bring in new visitors the following October. How great is that?
Reason #6 – A blog demonstrates you're alive and kicking.
There's nothing sadder than a static website with its faint aura of abandonment. A blog demonstrates to your customers that you are here and actively engaged in your business. Like donning a fresh shirt each day, it shows the public you care enough to put your best foot forward.
---
About VONT Performance Digital Marketing
At VONT we believe that change is the only constant in the digital world – and that excites us. When tools and environments are constantly changing, new opportunities to help our clients achieve success are constantly arising. Each new advertising technology, social platform, or design approach allows us to improve on the results we achieve for our clients.
We believe in this idea of continual fine-tuning so much that we named our company VONT, which means to achieve exponential improvement in incremental steps. It is our core belief, and the reason why we are not simply a web design company or simply a digital advertising agency, but rather a long-term, single source partner providing a comprehensive array of web development and digital marketing capabilities.
In short, we're here so that our clients achieve success in the ever-changing digital world. If you'd like to learn more about VONT and the work we've done with our client partners, visit our Work page. Or, if you have a question, contact us. We'll get right back to you!