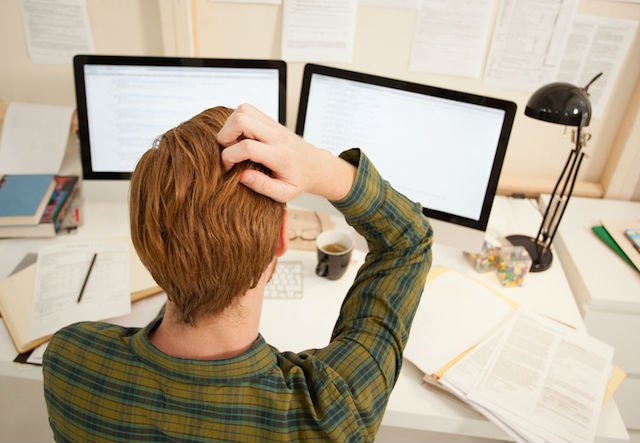 Ever feel overwhelmed by digital marketing? If you're not currently working in the digital world, it can be hard to keep up with vocabulary – so many acronyms! – let alone best practices. SEM, SEO, PPC – it's enough to make your head spin.
If you've been wondering what all those acronyms mean and how they fit together, read on. We'll get you talking like a pro in no time!
SEO/SEM: The big two defined
SEO
You've probably heard this term before. SEO stands for Search Engine Optimization. SEO means optimizing your site (by use of keywords and meta tags such as page title, description and URL name) to make it easy for search engine bots to crawl and understand what information you provide on each of your site pages. Search engines then use that information to rank your page on their SERP – Search Engine Results Page.
That being said, the optimization portion of SEO actually has two parts to it. The first is how you optimize your site for search engines. The second is how you optimize your site for searchers in order to make it as easy as possible for them to find or accomplish whatever it is that led them to your site. To read the full story about SEO, go to our article More than SEO: Great Website Optimization.
SEO is organic, which means it earns traffic through unpaid efforts.
SEM
SEM stands for Search Engine Marketing. It refers to those paid efforts used to move traffic to your site. As defined by Wikipedia, SEM is a form of Internet marketing that involves the promotion of websites by increasing their visibility in search engine results pages (SERPs) through optimization and advertising. SEM has also been known as Paid Search.
SEM encompasses several types of activity:
PPC stands for Pay Per Click and refers to the model in which a company pays a set amount each time its ad is clicked. PPC can also stand for Pay Per Call and is used when the cost trigger is a phone call versus a click.
CPM or CPI stand for Cost Per Impression and refers to the amount/rate an advertiser has agreed to pay per 1,000 impressions (views) of an advertisement. The 'M' in CPM comes from the Roman numeral for 1,000.
CPC stands for Cost Per Click. Sometimes used interchangeably with PPC, CPC can also refer to the measurement of cost on a per-click basis for contracts not based on click-throughs.
Paid advertisements may appear on SERPs, social media, or other websites. Google AdWords is by many accounts the most popular paid search platform, followed by Bing. Why? Because a placement on a search engine results page allows your ad to be seen at the moment searchers are looking for what you offer.
Search Marketing
Search Marketing has become the umbrella term that covers ALL digital marketing efforts – both paid and organic – used to drive traffic to a website. SEO and SEM are both components of Search Marketing.
Other digital marketing acronyms
Now that you understand the basics of digital marketing, it's time to dive a little deeper.
CR stands for Conversion Rate. A conversion occurs anytime a user completes a desired action on a web page, i.e. filling out a form, clicking on a link, making a phone call. The percentage of conversions is the rate. A high conversion rate describes a page on which a high percentage of users complete the desired action, while a low conversion rate describes a page on which a low percentage of users complete the desired action. Pages with high conversion rates are said to perform well; pages with low conversion are said to perform poorly.
CRO stands for Conversion Rate Optimization and describes those actions taken to improve the CR of a web page, landing page or even social media, CTAs and other types of digital marketing. Design approach, key optimization principles, and testing all contribute to improving the CR.
CTA stands for Call-to-Action. A CTA encourages a website visitor to take a particular action. It can be linked text, or photo, button or other type of link that usually includes a phrase such as "Call Now" or "Find out more".
CTR stands for Click-Through Rate. CTR is a way of measuring how often the people who see your ad click on it. It is found by dividing the number of click-throughs by the number of times your ad is shown. CTR is used to access just how well your ad is performing.
UV stands for Unique Visitor and refers to the number of distinct individuals visiting pages on your website, regardless of how often they visit. This is opposed to Visits, which refer to the number of times your website is visited. To illustrate, the action of a visitor looking at 10 pages on your site over two days would be described as ten visits by one unique visitor.
LP stands for Landing Page. LP has two different meanings. In the broader (and older) sense, it refers to any webpage that a user lands on. In the narrower (and newer) sense, it refers to a standalone web page distinct from your main website that has been designed for a single focused objective. A Landing Page is where your visitor arrives after clicking on a CTA. It is distinct from your website (containing no navigation to it) in order to better guide visitors to complete an intended action.
Once you understand the vocabulary it's easy to join the discussion. If there is a term you'd like us to define, simply leave us a comment below.
---
About VONT Performance Digital Marketing
At VONT we believe that change is the only constant in the digital world – and that excites us. When tools and environments are constantly changing, new opportunities to help our clients achieve success are constantly arising. Each new advertising technology, each new social platform, each new design approach allows us to improve on the results we achieve for our clients.
We believe in this idea of continual fine-tuning so much that we named our company VONT, which means to achieve exponential improvement in incremental steps. It is our core belief, and the reason why we are not simply a web design company or simply a digital advertising agency, but rather a long-term, single source partner providing a comprehensive array of web development and digital marketing capabilities.
In short, we're here so that our clients achieve success in the ever-changing digital world. If you'd like to learn more about VONT and the work we've done with our client partners, visit our Work page, or, if you have a question, contact us. We'll get right back to you!