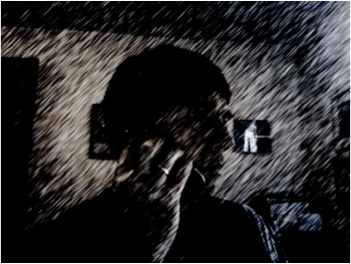 Shining a Light on Dark Search Results
Posted: July 24, 2017
Many of our clients have seen an increase in direct traffic results over the past few months. Typically, direct traffic is generated by Internet users who have either bookmarked a site or typed in the URL in the browser address bar. While this has been true since the beginning of Google Analytics reporting, a new source of traffic has crept into these results and it traces its origins back to organic search. It is called "dark search" and it has created vexing new challenges for SEO analysts tasked to evaluate the effectiveness and performance of strategic keywords.
A fine young cannibal
The primary source of dark search results comes from mobile and tablet traffic from iOS 6 devlces (iPhones, iPads and iPods) running the Safari browsing app supplied with the Apple equipment. Technically, any non-paid search originating from these devices cannot be tracked by cookie-counting Google Analytics and all these results are dumped into the direct bucket by default. So, as mobile usage soars and the number of users searching for products, services and information of all sorts explode with it, the reported number of organic visits at a website may actually go down month-over-month. In other words, direct results from mobile devices are cannibalizing organic search results.
Data lost in space?
With increasing numbers of organic traffic results cloaked behind "not provided" and "not set" privacy shields – and now dark search – how can anyone on the SEO team make sense of the data? One answer to this riddle includes tracking traffic coming to landing pages other than the home page.
That's because most people entering a site URL will type in the core name and not add individual page extensions (i.e. petworld.com vs. petworld/dog/toys). At the same time, most searchers might be looking for something specific, such as "dog bone toys" and they would end up on a landing page optimized for these products vs. the home page. When you look at the known organic search results for these pages over the months and years (less all the not provided, not set static) you see patterns in the terms used. These might include; "dog toys", "toys for dogs", "poodle toys", "dog bone toys", etc. and very little if any keyword search terms that are not relevant. That means that if 50% of the traffic in the not provided/set bucket is technically unknown, it is most assuredly qualified search that contains semantically related and exact match terms targeted by this page.
Logic even Spock would love
So how does this knowledge apply to the direct traffic? First and foremost, the SEO analyst will look at historical data to see how much direct traffic came to the petworld/dog/toys page. Typically, what the research turns is up that virtually none of that traffic has been direct until recently. Now, the number of direct visits is growing fast. In fact, that number corresponds closely with the increase in mobile traffic to the site. The analyst concludes that the most likely source of this direct traffic to the landing page is mobile organic search using relevant and strategic keywords terms. Why? Because as we have seen, the vast majority of known organic visits coming to this page is highly qualified traffic. While this may not be pure science, its logic is all but impossible to deny.
The good news is that, armed with the knowledge that the landing pages give us, we can continue to evaluate the overall success of our SEO web marketing strategies and tactics even if we can't examine each visit in minute detail.
---
About VONT Performance Digital Marketing
At VONT we believe that change is the only constant in the digital world – and that excites us. When tools and environments are constantly changing, new opportunities to help our clients achieve success are constantly arising. Each new advertising technology, social platform, or design approach allows us to improve on the results we achieve for our clients.
We believe in this idea of continual fine-tuning so much that we named our company VONT, which means to achieve exponential improvement in incremental steps. It is our core belief, and the reason why we are not simply a web design company or simply a digital advertising agency, but rather a long-term, single source partner providing a comprehensive array of web development and digital marketing capabilities.
In short, we're here so that our clients achieve success in the ever-changing digital world. If you'd like to learn more about VONT and the work we've done with our client partners, visit our Work page. Or, if you have a question, contact us. We'll get right back to you!