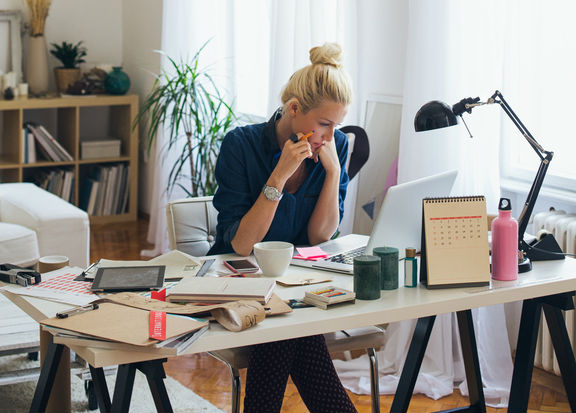 Facebook's New Reality: The Importance of Paid Promotion
Posted: July 24, 2017
You've worked hard to increase the likes on your business's Facebook page and feel pretty darn good about your number of followers.  But if you're thinking the hard work is over and it's time to reap the benefits of free advertising posts, you're about to be sorely disappointed.
Four to six years ago, conventional wisdom advised businesses to run "like campaigns" in order to build their base.  Once a solid base was attained, businesses then could talk to their followers for free.  A business's like base was considered another type of owned media because it could not be taken away.
But those days are gone.
Why? Because the digital world is constantly changing, and as of January 2015, Facebook officially changed its algorithm for the way it chooses which types of posts appear in News Feed.
And as if to underline that trend, Facebook topped off that algorithmic change with another in June 2016 that yet again reduced organic reach of brands by favoring posts from family and friends.
As a result, the typical Page's organic reach has tumbled.  It used to be that roughly 15% of your followers would see your posts, but no more. Now it's close to 0%.
At this point, you may be asking yourself if there's any value left in the likes you worked so hard to build. You may also be wondering how to get your message out to a fan base that won't automatically see your posts in News Feed.
Rest assured, there is value in your like base and there are steps you can take to get as much organic reach as Facebook will allow
How do I get out my message without organic reach?
The good news is that Facebook has some of the richest targeting tools of any media in the world, and it's time to use them to your advantage.
The better news is that with paid campaigns, your content will be seen by a new and improved audience. How so?
Rather than thinking about your audience as consisting solely of your like base, think about your audience as consisting of all of Facebook. After all, your customer base – and your potential customer base – is made up of much more than those people who like you on Facebook.
Quite simply, if you have to pay to reach your own base now, why not reach everyone in your target audience whether or not they like your Page?
To begin, think about who would be the best target audience for your product or service.  Once you have a clear picture, put Facebook's targeting tools to work.
The tools are divided into three categories.
The first is the most basic and consists of demographic and geographic targeting.
The second category is composed of interest-based targeting and can be used to focus on what a target audience has liked on Facebook in the past; for example, you can target people who have liked your competitor's Page, but not yours.
The third big category uses third-party data sources such as BlueKai, Datalogix, Acxion, and Epsilon to provide more focused information to help refine your target audience. As a result, you can target people for just about anything – from people looking to buy homes to those who have just completed a purchase of one. In addition, in-market data can be used to find out what people are shopping for at any given moment.
The bottom line is that there are millions of ways to target an audience – all you need to do is decide what your perfect target audience looks like.
What are my likes worth now?
Does your fan base matter anymore? Yes, it does, and here are some reasons why:
A larger fan base gives your business brand credibility. Think about your impression of a Page with 100 likes versus one with 100,000. If you had to choose between the two, which business's product would you be more likely to buy? Pages with more fans look more credible to new viewers.
People who have liked your Page behave differently than those who have not. A person who has liked you is most likely aware of you and is either an advocate for your business or at least has some interest in it. As a result, you will likely get more engagement (in the form of comments, shares, and likes for posts) from someone who has liked your page than from someone who has not – and that can translate into lower cost per engagement. In addition, more engagement translates into more organic and viral reach because your fans are more likely to share. And the more people that engage in your post, the more likely Facebook is to place it in News Feed.
Fans provide insight into their likes and can help you target others who will be interested in what you have to offer. Seeing what your fans like and don't like will help you focus in on the type of people who are more likely to become your future customers.
The takeaway
What we're experiencing is the evolution of a marketing platform.  Just as with newspapers, radio, TV or other media platform, Facebook has become more effective if you use paid media to accomplish your marketing goals instead of relying on organic reach. If you do it correctly, paid media on Facebook will allow you to reach a broader audience with greater accuracy than you ever could before.

---
About VONT Performance Digital Marketing
At VONT we believe that change is the only constant in the digital world – and that excites us. When tools and environments are constantly changing, new opportunities to help our clients achieve success are constantly arising. Each new advertising technology, social platform, or design approach allows us to improve on the results we achieve for our clients.
We believe in this idea of continual fine-tuning so much that we named our company VONT, which means to achieve exponential improvement in incremental steps. It is our core belief, and the reason why we are not simply a web design company or simply a digital advertising agency, but rather a long-term, single source partner providing a comprehensive array of web development and digital marketing capabilities.
In short, we're here so that our clients achieve success in the ever-changing digital world. If you'd like to learn more about VONT and the work we've done with our client partners, visit our Work section. Or, if you have a question, contact us. We'll get right back to you!