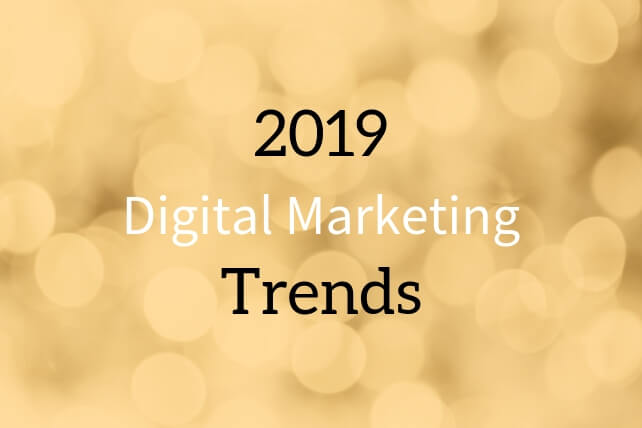 Digital Marketing Trends Outlook (2019 Edition)
Posted: April 24, 2019
Digital marketing is undergoing a rapid evolution that will continue to accelerate throughout 2019… and beyond. With SEO, social media, PPC, content marketing, and more already in the mix, you may very well wonder what else could possibly be coming. But in the digital world, we like to say that change is the only constant, and this year, from paid search to social media, change is in the air – and online. Here are some of the digital trends to keep your eyes on in 2019:
Hello Chatbot
Chatbots – those messenger apps that imitate human conversation in order to perform a variety of tasks are increasingly in demand. Already, Chinese WeChat bots are used to set medical appointments, call a taxi, send money to friends, or check for a flight.
According to a Chatbot Market Analysis report published in 2017 by Grand View Research, "The global chatbot market was valued at USD 190.8 million in 2016 and is expected to witness a significant growth in the market over the (2017-2025) forecast period." The report goes on to say that the growth will be driven "by the increasing adoption of customer service activities among enterprises in order to reduce operating costs."
Led by growth in the e-commerce segment, chatbots will be communicating with customers buying shoes online, answering questions about home loans, and booking singles only resort reservations in the Bahamas.
"Two hundred and sixty-five billion customer support requests are made every year, and it costs businesses a whopping $1.3 trillion to service them" states IBM's Conversational Services blog report How Chatbots Can Help Reduce Customer Service Costs by 30%.  "Chatbots can reduce these costs significantly when companies upgrade from antiquated, inefficient IVR technology to AI, chatbots, virtual assistants, messaging and other new technologies that are already helping transform call centers across the world."
But the real question is, why would anyone want to talk to a bot? Well, according to a report conducted by Usabilla in August 2018, 54% of the 1000 users surveyed said they would actually prefer chatbots over humans if it would save them 10 minutes of their time. The report found that nearly three out of four (70 percent) of the respondents said that they have already used chatbots. Looking ahead, the report predicts that "chatbots will power 85 percent of all customer service interactions by the year 2020."
This growth has everything to do with the fact that the bots never sleep. They are on call 24/7 – and they have the answers people need. However, and this is important, the report concluded that "brands need to balance innovation and human interaction", and that organizations should ensure "human interaction can enrich each touchpoint when necessary."
Ready, Set, Action! The Video Marketing Explosion
When it comes to visitor engagement on a webpage or social media, nothing grabs the attention like video. According to the latest Cisco Visual Networking Index (VNI) Complete Forecast, by 2021 video will represent 80% of all internet traffic and there will be nearly 1.9 billion internet video users who will be watching 3 trillion minutes of video per month.
YouTube is now the world's 2nd largest search engine for more than 1.8 billion people registered on the site (167.4 million in the U.S. alone) consuming 5 billion videos each day.  Estimates say that as many as 50% of YouTube's total views are on mobile devices.
While Alphabet (Google's parent company) has yet to release YouTube's annual revenue, most of the estimates are now above $10 billion with Colin Sebastian of R.W. Baird estimating YouTube is "probably a $15 billion business." UBS analyst Eric Sheridan thinks YouTube will become central to Google's revenues in the coming years and predicts revenues of $27.4 billion by 2020. With that type of growth, it's no wonder that video is the place to be.
But Wait… There's More. Live Video!
Live content is the fastest growing segment of internet video traffic. However, not all live video platforms are equally as effective, so choosing the right platform to deliver your live video is essential. Not to mention that to yield the results you seek, your topic must to be well thought out and appealing to your audience.  Instagram, YouTube, and Twitter all offer you a chance to reach new audiences with live video. One of the most popular options today is Facebook LIVE. In its first two years, "hundreds of millions" of Facebook LIVE users created more than 3.5 billion broadcasts.
"Facebook LIVE Videos are a great way to extend your reach on Facebook," explains VONT Content Marketing Strategist, Suzanne Madore. "Facebook is now pay-to-play as organic reach died back in 2016. To incentivize users to go LIVE on the platform, Facebook unofficially rewards them with an increase in organic (unpaid) reach. There's a catch, of course. Simply posting a video doesn't do the trick. You have to create the video within Facebook's LIVE function and have active, engaged viewers, which will require some paid promotion." 
Content planning also plays an important part in the success of your live video. Just because its live doesn't mean the broadcast should be completely unscripted. Choose topics that will be informative, helpful and entertaining for your customers.
Live video will continue to grow in both reach and effectiveness in the years to come because it engages with viewers in a way that feels very personal and interactive. It's originality and timeliness are also characteristics that users will come to value as well.
As with any marketing device -online or offline – success breeds success. So, take your time to create a live video experience that your audience will want to tune into again next time too!
Lastly, we expect 2019 will also see the emergence of more user generated videos. Again, the visual appeal of video will continue to attract more viewers, helping to fuel another trend we'll see in the upcoming year – the rise of influencer marketing.
Behind the Scenes with Instagram Stories
Somewhere in between the scripted, polished and carefully edited content of the Instagram feed and the off-the-cuff, anything can happen in the background video content of Facebook LIVE, there lies a third, immensely popular and quickly growing category of content – stories.
Introduced by Snapchat back in 2013, stories are series of short videos and photos strung together into a longer-form piece of content that lives online for 24 hours, before disappearing into the social media abyss for good.
While Snapchat was the first to introduce "impermanent content" to social media, it was Instagram that truly brought it to the forefront with Instagram Stories. Today, Instagram Stories are used by 500 million users every day, and if current trends continue, sharing with Instagram stories will surpass sharing via the traditional Instagram feed sometime in the middle of 2019.
This surge to stories can be attributed to a couple of different factors. First, the impermanence of the content. Mark Zuckerberg himself stated in his most recent blog post about the future of Facebook that "we already see that private messaging, ephemeral stories, and small groups are by far the fastest growing areas of online communication." People like the idea of sharing day-to-day moments with their friends, without the fear of that content living on their social media "record" forever. Anyone who attended high school or college in the Facebook era can attest to this.
The second factor in the rise of stories is authenticity. Over the past couple of years we've already seen a distinct shift toward authenticity in content – but stories, with its "snap and send" publishing method (i.e. minimal editing), adds another layer to this desire for real-time, behind-the-scenes views. Additional features like real time polling, "swipe-up" links and "ask me anything" boxes also add to the appeal, by making the content more interactive and engaging.
Brands would be wise to jump onboard the stories train now, as consumers are likely to demand more and more ephemeral content  – and preliminary research into the efficacy of advertising on stories is positive, with as many as 1 in 3 Instagrammers stating they have become interested in a product they saw on stories.
Content Remains King – Now Cluster It
Once again, in 2019, creating and publishing a steady stream of informative, engaging and fresh online digital content will be crucial to building an audience for your product or service. Content is the fuel that feeds every digital channel in your online marketing plan.
From simple email campaigns to SEO and other inbound marketing efforts, cultivating a solid foundation of helpful, relevant information on your website or blog is critical to moving visitors through the buyer's journey. When it comes to turning visitors into customers, long-form content provides the proof and the push they need to start a real conversation with a salesperson.
According to CMI "When used for demand generation purposes, B2B marketers rated [long-form content] blog posts/articles, white papers and case studies to be the most effective types of content for the early, middle, and late stages of the buyer's journey."
Improving SEO with Content Clusters
Rather than simply looking for specific keywords within a web page, search engines now show preference to sites that feature content that is interrelated and organized around a few distinct, relevant topics to their type of business. And while content will remain king in 2019, its structure and placement within your website will need to be modified as search engine algorithms give preference to content clustered around a specific topic.
"You need to organize and develop website content around keyword query research into a core market niche topic and related subtopics," explains VONT Web Optimization Strategist, Mark Beale. "Google algorithms reward subject matter relevance with greater organic search visibility. Creating a tightly topic-focused content cluster, or hub and spoke content framework, will help create what Google calls an 'entity' which will help build greater authority in search for your website. The goal is to rank your core topic – ideally the hub page – at or near the top of the SERP (search engine results pages)."
For example, individual pillar pages would provide a broad outline for that particular topic and contain links to a cluster of pages with specific long-tail keywords that provide more information about one aspect of that particular topic, such as "home loans and mortgages". At the same time, each cluster page is also linked back to the pillar page using strategic topic-centric target keywords.
The reality is it is no longer enough to create thin, poorly organized content that simply includes a bunch of the right keywords. Especially if your market niche is highly competitive. Search engines will increasingly reward websites (with higher placements) that can show that it can provide users with both breadth and depth of subject matter expertise. Clustered, connected content tells search engines that you're an expert in your line of business.
Alexa, What is Voice Search?
Last year, the number of smart speakers installed in homes rose to approximately 120 million – a 78% increase from the year before (2017). Brands such as Apple, Google, Amazon, and others anticipate continued growth both in the number of homes that will eventually purchase their first device and existing customers who are expected to keep adding more devices to their smart homes.
In 2019, voice-activated devices will increasingly take over the way that people search for information online. Who wants to spend time turning on a computer, opening a mobile app on a phone, and typing out words when someone could just say "Alexa. Who makes the best pizza in Portland, Maine?"
Alexa, Siri, and Google Assistant are making it possible for people to incorporate search into their everyday routines. The ease of use and ever-increasing intuitiveness of voice-operated technology is not only a rising trend – but one that's here to stay.
In 2016, research firm Gartner predicted that, by 2020, 30 % of all web browsing sessions will be done without the use of a screen. "By eliminating the need to use your hands and eyes for browsing, vocal interactions extend the web experience to multiple activities such as driving, cooking, walking, socializing, exercising, operating machinery, etc."
It appears that many people aren't afraid of speaking to machines anymore. Previous feelings of apprehension or discomfort have been replaced by the powerful reward of instant gratification. And this shift from text to voice search optimization will have a major impact on how online content is created in the future. The good news is that it appears that writing good, on-topic SEO content is also going to generate the best voice search results too. When writing content for voice search, it's important to first anticipate, then answer specific questions in a concise, conversational way. Keep in mind that the answers should be closely aligned to the search query.
Given the huge number of voice-activated 'smart speakers' already installed, and the increasingly adventurous ways people are now using them, 2019 is poised to show significant growth for voice search – especially for consumers looking for local businesses, travel tips, weather, general information, and on occasion, to help them cheat at Jeopardy!
The Takeaway
In 2019 and beyond, we will continue to experience the rapid escalation of new digital communication platforms. These new ways of reaching and conversing with your target audience could hold the key to a more successful future for your business or organization. Stay tuned.
---
About VONT Performance Digital Marketing
At VONT we believe that change is the only constant in the digital world – and that excites us. When tools and environments are constantly changing, new opportunities to help our clients achieve success are constantly arising. Each new advertising technology, social platform, or design approach allows us to improve on the results we achieve for our clients.
We believe in this idea of continual fine-tuning so much that we named our company VONT, which means to achieve exponential improvement in incremental steps. It is our core belief, and the reason why we are not simply a web design company or simply a digital advertising agency, but rather a long-term, single source partner providing a comprehensive array of web development and digital marketing capabilities.
In short, we're here so that our clients achieve success in the ever-changing digital world. If you'd like to learn more about VONT and the work we've done with our client partners, visit our Work page. Or, if you have a question, contact us. We'll get right back to you!
References: